Last Updated on March 6, 2023
Don't let yellow drips ruin your bathroom aesthetic. Even if you think they're there to stay, with a few clever solutions, you'll be able to get a pristine look back. 
From mild dish soap solution and white vinegar solution to cleaning with borax or toothpaste, even Magic Erasers are up for making sure those nasty marks don't stick around any longer than necessary.
Let's take an in-depth dive into each of these methods so that it can feel brand new again. We'll also explain what causes those dreaded stains and how to get rid of them forever. Ready for spotless walls? Let us show you the way.
How to Clean Yellow Drips on Bathroom Walls: Effective Methods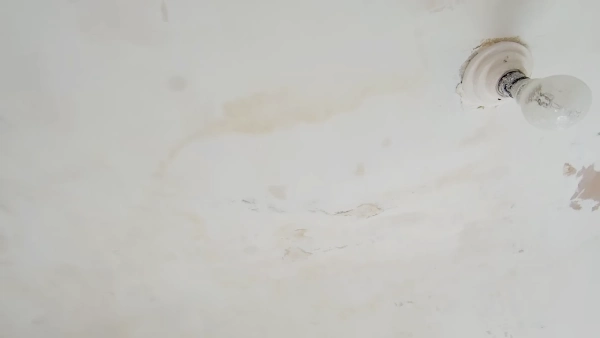 Getting rid of yellow drips on bathroom walls can be tricky, but luckily, there are a few effective methods that can help you tackle this pesky problem. Below are some of the best cleaning solutions for removing yellow drips on your bathroom walls.
Method 01: Mild Dish Soap Solution
You can eliminate yellow drips on bathroom walls with a mild dish soap solution. To begin the process, mix warm water with a small amount of mild dish soap or dishwashing detergent in a spray bottle.
Once the mixture is ready, spray it lightly on the affected area and let it sit for 10 to 15 minutes. The soap will start to break down the yellow drips, making them easier to remove. Next, take a soft sponge or cloth and gently scrub the area until the yellow stains are no longer visible.
Then, take a wet rag and wipe away any remaining residue, then dry the surface thoroughly with another clean cloth. Proper ventilation should also be ensured for the area to dry out completely and prevent future discoloration from occurring.
Method 02: White Vinegar Solution 
Another highly effective way of cleaning yellow drips is through a white vinegar solution.
Mix one cup of white vinegar with warm water in a spray bottle, then spray it on the affected area. Let this mixture sit for around five minutes so that it can work its magic on breaking down the discoloration.
Afterward, take your sponge and scrub gently at the stains until they are removed before wiping off all traces of residue with a damp cloth and warm water.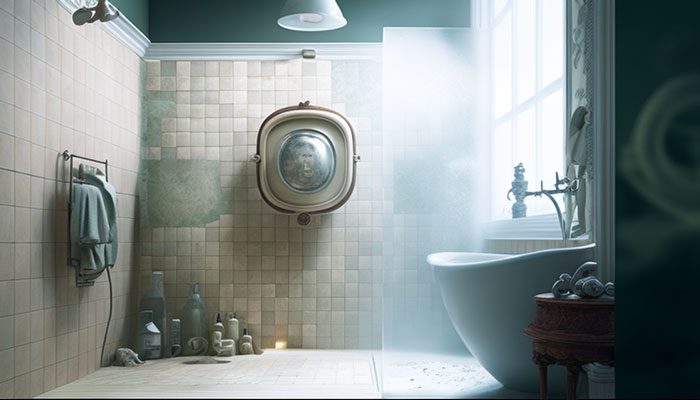 For stubborn or old stains that just won't go away easily, make a paste using equal parts white vinegar and baking soda along with some warm water for extra abrasion power against tough grime buildup.
You can also apply white distilled vinegar directly without diluting it first. Let this sit for about an hour before wiping off excess liquid and any remaining yellow drips discoloration.
Method 03: Cleaning with Borax
Cleaning away yellow drips on bathroom walls using borax is another great option. When taking this approach, it is important to wear protective gear such as gloves and goggles, as borax can be harmful if ingested or handled improperly.
Dip your rag or cloth in a bowl of pure borax powder after dampening it with warm water. Use the cloth to rub the tiles until all traces of yellow stain have disappeared from view.
To finish, use a separate clean cloth dampened in warm water to remove any remaining traces of borax from the wall. With these steps completed, you should have successfully removed all evidence of yellow drips from your bathroom walls safely and effectively.
Method 04: Using Toothpaste
To clean yellow stains on bathroom walls using toothpaste, you will need a cloth or rag dampened with warm water, toothpaste, and a soft-bristled brush.
First, wipe your walls with a damp cloth or rag. Then, apply an even layer of toothpaste over the stained areas, making sure to cover the yellow stains completely.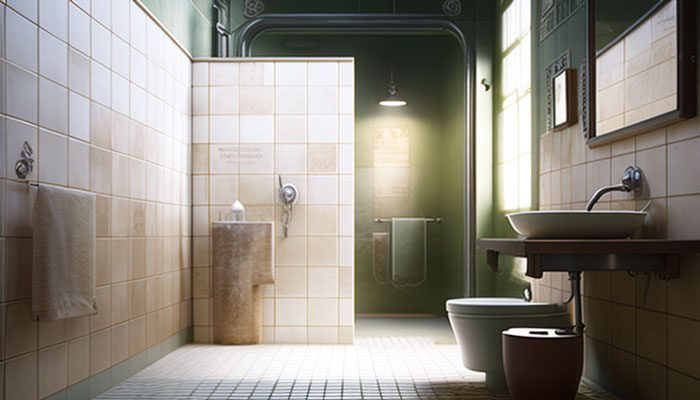 Allow the toothpaste to sit for 20 to 30 minutes before lightly scrubbing the areas with the soft-bristled brush. In the end, wipe your wall clean with a clean cloth dipped in warm water.
Method 05: Cleaning with Magic Eraser
The Magic eraser is also useful in removing yellow drips from bathroom walls. Wet your bathroom walls with warm water, then dampen your magic eraser in warm water as well.
Use this tool to carefully scratch off any stubborn yellow spots carefully, making sure not to scratch up your walls in any way during this process. To finish, wipe down your wall with a clean cloth and warm water one last time.
Why Is My Bathroom Wall Dripping Yellow?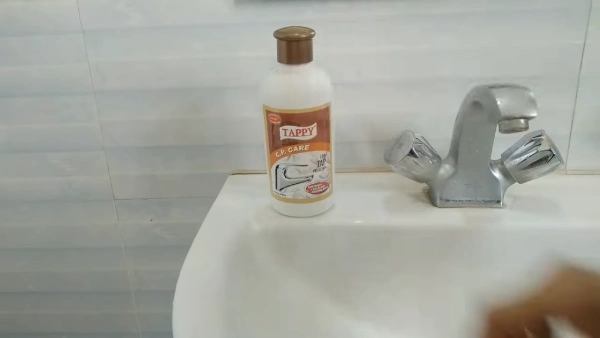 There are many reasons why your bathroom wall might be dripping yellow. It could be due to mineral accumulation, condensation, fungal growth, soap stains, or cigarette smoking. Let's discuss each of these possible causes in more detail.
1. Mineral Accumulation
Mineral deposits may be causing the yellow drips on your bathroom wall. This can come from hard water that contains high levels of calcium and magnesium or from saltwater if you live near the ocean.
These minerals bind to surfaces and form crystals that often appear as yellow, white, or orange stains. As they accumulate on the walls of your bathroom, they can begin to drip down and leave behind a yellow residue.
Sometimes bacteria such as mold and algae can grow in these damp areas and produce a yellowish discoloration when the moisture evaporates.
2. Condensation
Another cause for the dripping yellow on your bathroom wall could be condensation. When warm air meets cold surfaces such as windows and metal fixtures in bathrooms, condensation is formed, which leads to moisture buildup that eventually starts dripping down the walls.
This happens more frequently when no exhaust fan is present in the room to draw out the warm air created while running showers or baths.
If there are not enough vents in the room, it becomes harder for the warm air to escape through them and instead collects along cool surfaces, causing condensation buildup.
3. Fungal growth
You might have yellow dripping on your bathroom wall because of fungal growth. Fungi are tiny organisms that grow well in humid places, such as bathrooms.
They need a lot of water, so they like places where showers or baths run all day long. They also like bathrooms that do not have good ventilation.
Fungi grow in colonies on surfaces like walls and grout between tiles. They eat things like soap residue or dirt that accumulate over time. This can cause a yellowish color to appear on your bathroom wall, often with a musty odor.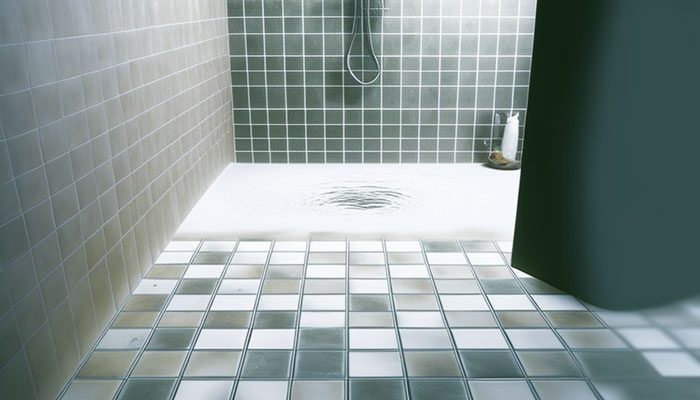 4. Soap Stain 
A yellow drip on the bathroom walls could also be caused by a soap stain. Soap residue that accumulates on tiles and grout can take on a dull yellow appearance over time if not cleaned properly.
This is because the soap contains natural oils and proteins that leave behind a sticky, oily residue when mixed with water vapor from baths or showers.
As the residue collects, it takes on a yellowish color due to oxidation over time which can lead to the discoloration of bathroom walls in certain areas.
5. Cigarette Smoking 
Cigarette smoke is another potential culprit for the yellow dripping of bathroom walls. Nicotine in cigarette smoke sticks to surfaces like the wall and bathroom ceiling with ease due to its oily nature when combined with water vapor and other airborne particles in the air.
Eventually, this nicotine deposition will oxidize over time and take on a yellowish hue which can lead to visible staining of the wall surface.
Also, smoking inside an enclosed space such as a bathroom exacerbates this problem further due to the lack of ventilation which traps all these contaminants within the room. This makes it easier for them to stick to surfaces like walls.
How to Prevent Yellow Drips from Forming on Bathroom Walls?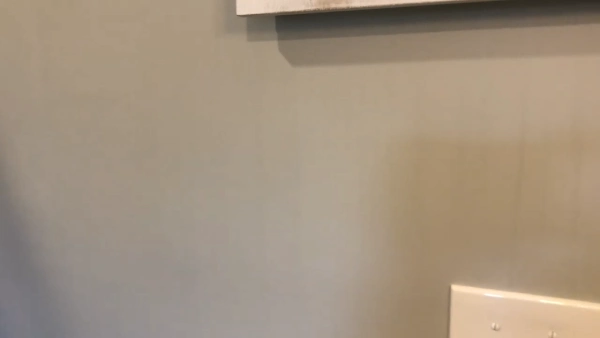 Keeping your bathroom walls clean and free from yellow discolorations can help make the space appear brighter and more inviting. There are a few things you can do to prevent yellow drips.
1. Install an Exhaust Fan
The most effective way to prevent yellow drips is to install an exhaust fan or a more powerful fan in your bathroom. This helps to quickly ventilate the room after showers and baths, allowing moisture to escape before it accumulates on walls.
Turning on the fan during baths and showers will also help reduce humidity levels in the bathroom. If you already have a fan installed but find that it's not powerful enough, consider replacing it with a stronger and more efficient one. You may also want to consider upgrading your ventilation system if necessary.
2. Wipe Down Condensation After Showers
Another way to keep yellow drips away is by wiping down condensation after showers or baths. When you finish your shower, use a soft microfiber cloth or towel to wipe away any moisture accumulated on your bathroom's walls.
Taking this step every time you shower will help keep walls dry and free from discolorations caused by water droplets.
3. Clean Your Bathroom Walls Weekly
Ensuring that your bathroom walls are cleaned on a regular basis can help keep them free from yellow discolorations. Aim to thoroughly scrub your walls at least once every week using an antibacterial cleaner mixed with warm water.
This will help remove any grime or bacteria that have settled on the surface of the walls over time which could eventually lead to yellow stains if left unchecked.
Also, ensure that you dry off any wet areas of the wall following each cleaning session for extra protection against discoloration.
4. Run a Dehumidifier
If you don't have enough ventilation in your bathroom, this could lead to yellow drips forming on the walls due to excessive moisture in the air.
One way to address this issue is to install a dehumidifier in the room, which will help remove excess moisture from the space by drawing moisture out of the air into its container so it can be disposed of safely later on.
It's important not to run your dehumidifier all day long, though, as this could waste energy. Instead, you should turn it on when you notice that there is too much humidity in your bathroom.
How Do You Get Rid of Yellow Drips on Painted Bathroom Walls?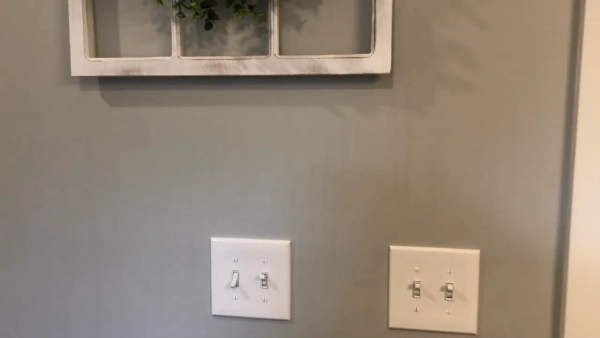 The best way to remove yellow drips from painted walls in your bathroom is to scrub the affected area with Sugar Soap.
This should be done without sanding or removing existing paint unless it flakes off while scrubbing. Once the area is dry, a low-sheen paint with a mold inhibitor should be applied for the best results.
Is It Safe to Use Bleach on Bathroom Walls?
Using diluted bleach on bathroom walls is generally safe if done correctly. To ensure safety, mix 1/2 to 3/4 cups of bleach with 1 gallon of water, and do not let it sit for more than 15 minutes at a time.
It is also important to note that bleach should never be mixed with ammonia or any other cleaning product.
Can Hydrogen Peroxide Be Used to Clean Yellow Drips from Bathroom Walls?
You can remove yellow drips from bathroom walls with hydrogen peroxide. To do this, mix two parts baking soda and one part hydrogen peroxide into a fine paste and apply it directly to the affected area.
After allowing it to sit for several minutes, scrub it until the yellow discoloration has been removed before rinsing it with warm water.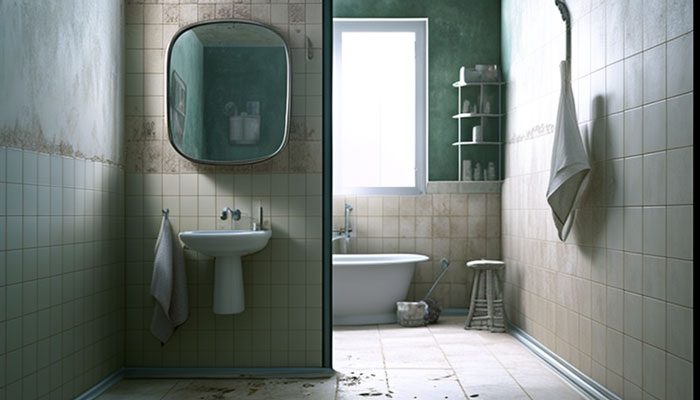 Outwit Yellow Wall Drip Stains
While yellow drip stains on your bathroom walls can be unsightly and difficult to remove, hopefully, the solutions provided above will help make the job easier.
From mild dish soap solutions to using toothpaste and magic erasers, there are plenty of ways to combat these pesky stains. Alternatively, you can use the best bathroom cleaner that's designed to clean yellow drips.
Remember to take preventative measures such as regularly wiping down condensation after showers, washing shower curtains, and running a dehumidifier if ventilation isn't great. With these tips in mind, cleaning up those pesky yellow drips is sure to be much easier.
How to Clean Yellow Drips on Bathroom Walls: 5 Methods [Useful]