Last Updated on February 12, 2023
Do you want to keep your bathroom sparkling clean without harsh chemicals? Then you should consider choosing the best natural bathroom cleaners. These cleaners are an effective way to deep clean and disinfect areas in your home without using toxic ingredients. But how do you make a good choice?
When choosing a cleaner for your bathroom, you should know about the various ingredients, scented and unscented options, multi-surface effectiveness, safety, and health concerns. Aside from that, the cleaner would feature scratch-free and streak-free formulas and be cost-effective.
This blog post will discuss the top five natural cleaners for your bathroom with safety concerns in mind. We'll also discuss how to properly use a natural bathroom cleaner and alternative options if you don't have access to one.
By the end of this article, you will be armed with all the necessary information required to choose the most effective natural cleaner for your bathroom.
Best Natural Bathroom Cleaners: 3 Editor's Choice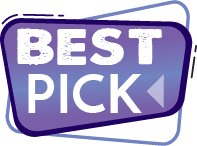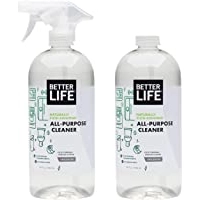 Better Life Natural Bathroom Cleaners
Feel good about not using harsh chemicals in your home.
● Item Form: Liquid
● Scent: Unscented
● Specific Uses: Showers, Floors, Upholstery & Toilets
● Material Feature: Plant Based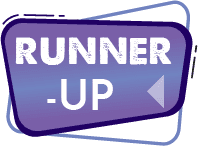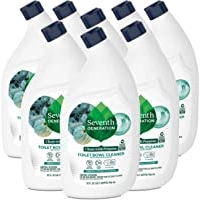 Seventh Generation Bathroom Bowl Natural Cleaner
Create a relaxing spa-like atmosphere in your bathroom.
● Item Form: Discrete Subunit
● Scent: Emerald Cypress & Fir
● Specific Uses: Toilet
● Material Feature: Biodegradable
Top 5 Natural Cleaning Products for Bathroom: Explanation
It can be hard to keep your bathroom clean and hygienic since most commercial cleaning products contain harsh chemicals that could be harmful. Fortunately, plenty of natural alternatives will get the job done without risking your health. Here are five of the best nontoxic cleaning products for bathrooms today:
1. Better Life Natural Bathroom Cleaners
Looking for a way to keep your home clean without compromising safety or sustainability? Better Life natural bathroom cleaners are just the thing. You can rely on these products for sparkling surfaces free of harsh chemicals. And it's plant-based.
Truly Unscented
This natural bathroom cleaner is genuinely unscented, with no added fragrances. Instead, it harnesses the power of natural ingredients to help you get a deep clean without worrying about any artificial odors lingering in the air. It's especially great for those who suffer from migraines or other conditions that make strong smells unbearable because it won't trigger any reactions.
Spray On Any Mess, Anywhere
Better life natural bathroom cleaner is designed to tackle messes on any surface. This cleaner will easily remove dirt, grime, soap scum, and more from tile and grout to porcelain and fiberglass. Plus, it's safe on food contact surfaces like countertops and sinks, so you can confidently clean up after meals while keeping your family safe from harsh chemicals.
Safe for Use on Septic Systems
These natural cleaners are gentle enough for use on septic systems as well. Unlike traditional cleaners that contain harsh chemical additives, this one works without releasing harmful toxins into the environment. With its biodegradable formula, it won't harm beneficial bacteria or cause blockages in pipes either.
Cruelty-Free & Vegan
This means that no animals were harmed during the manufacturing process of this product. All ingredients are plant-based, so you can feel good knowing you're using an animal-friendly cleaner in your home. This cleaner has been carefully formulated with safety in mind and environmental sustainability.
Trigger Sprayer Included
To make cleanup easy, peasy lemon squeezy (or at least easier!), each Better Life bathroom cleaner bottle comes with a trigger sprayer. Ready to use right out of the box, this sprayer makes application quick and efficient. It allows you to quickly get through those nasty messes to enjoy life more instead of scrubbing away at them.
Positive Things:
An all-purpose cleaner safe for multiple surfaces
Cleans with powerful plant-based ingredients
Biodegradable and gentle on the planet
Leaves surface clean and smelling fresh
Safe for you, your family, and your pets
Insufficiencies:
It leaves a sudsy, viscous residue if left on the surface for too long.
---
2. BON AMI Natural Bathroom Cleaner Powder
Want a bathroom that is sparkling clean and safe to use? Look at BON AMI natural cleaner powder. It offers all-natural ingredients free of smell, toxicity, or residue. Plus, it won't scratch delicate surfaces as you work.
No Smell
BON AMI natural bathroom cleaner powder will leave your bathroom smelling fresh with its lack of odor. It eliminates musty smells and is designed to be used on all bathroom surfaces, including tile, porcelain, metal, and plastic, without leaving any strong odors from chemicals.
Multi-purpose Cleaner
This natural powder works great for multiple purposes beyond just bathrooms. This powder can be used to safely clean kitchen counters, showers, toilets, and sinks, as well as other household items like toys or tools. It is versatile enough to tackle anything you need to clean up in your home.
Biodegradable and Nontoxic
You don't have to worry about harsh cleaners with BON AMI cleaner powder. It uses biodegradable materials that are non-toxic, so you don't have to worry about any nasty fumes or residues seeping into the air. According to the Environmental Protection Agency (EPA), this product is safe and effective against germs.
Economical and Easy To Use
All you need to do is mix one tablespoon of BON AMI cleaning powder with two cups of warm water to get an instant cleaning solution that will last you quite a while. The cleaning process itself couldn't be more straightforward. Just spray it onto any surface that needs cleaning, then wipe it away with a damp cloth or sponge for a gleaming finish.
Cleans Without Scratching
With this cleaner, you won't have to worry about damaging your porcelain or other delicate surfaces when trying to scrub them clean. The unique formula ensures that your delicate surfaces stay scratch-free while being thoroughly cleaned.
Positive Things:
Absorbs odors with baking soda
Non Abrasive and safe for all surfaces
Removes tough dirt and grime with ease
Cleans without harsh chemicals or residues
Safe for septic systems and environmentally friendly
Insufficiencies:
It may not be suitable for use on highly polished stainless steel.
---
3. Seventh Generation Bathroom Bowl Natural Cleaner
Enjoy a deep clean with Seventh Generation's bathroom cleaner. This eco-friendly formula is tough on dirt but gentle on the earth, leaving surfaces sparklingly clear and streak-free. The natural scent will leave your bathrooms smelling delightful as you spray away.
Clear and Effective
Seventh Generation natural bathroom cleaner is engineered to be clear and compelling, delivering a powerful cleaning performance without leaving any streaks or residue on hard surfaces. Due to its unique surfactant blend, it quickly breaks down tough dirt, grease, grime, rust stains, calcium deposits, and more.
Leaves Surface Clean and Streak Free
This cleaner not only cleans surfaces but also leaves them clean and streak free. Its unique formula helps prevent surface smearing or spotting from hard water or soap scum build-up. Plus, its pH-neutral technology prevents over-cleaning damage for lasting results.
Earth-Friendly and Biodegradable
Not only does the Seventh Generation bathroom bowl natural cleaner work well, but it's also earth-friendly too. The cleaner is made with naturally derived materials like corn oil and coconut oil and biodegradable ingredients that break down quickly, so they don't hang around in the environment longer than necessary.
Smells Good
The emerald cypress & fir scent of the Seventh Generation bathroom cleaner isn't just pleasing to your nose. It helps make bathrooms smell fresh too. The gentle citrusy notes are perfect for removing odors without being overly fragrant or overpowering, like many other cleaners can be.
Bottle Top Sprayer Is Easy To Use
One of the best things about this natural cleaner is how simple it is to use. The bottle top sprayer makes application fast and easy by allowing you to spray directly onto surfaces without making a mess or getting your hands dirty in the process.
You can also control how much product you use at a time, so you don't waste anything.
Positive Things:
Removes stubborn stains quickly and easily
It contains no chlorine, synthetic fragrances, dyes, or ammonia
A 97% biobased product that's septic safe
Leaping Bunny Organization's cruelty-free certification
Keeps your bathroom clean without harsh chemicals
Insufficiencies:
It may need a good amount of scrubbing on deep dirt surfaces.
---
4. Biokleen Natural Bathrooms Purpose Cleaner
Clean your bathroom without sacrificing safety or potency with Biokleen's natural cleaner. Its natural ingredients provide a powerful clean while avoiding the dangers of harsh fumes and chemicals. Make cleaning easier and less hazardous with this top-notch solution.
Safe and Natural Ingredients
Biokleen's cleaner is made from non-toxic and biodegradable ingredients like baking soda, citrus extracts, and melaleuca alternifolia (tea tree essential oil) leaf extract. These ingredients are not only safe for your family but also for the environment.
No Harsh Fumes
Biokleen natural bathroom purpose cleaner produces no harsh fumes during or after use. Its plant-based formula provides powerful cleaning without any harsh odors or smells. This makes it safe to use around children and pets and in confined spaces such as bathrooms.
Cleans a Variety of Surfaces
This bathroom cleaner is excellent for tackling dirt on various surfaces, including tile floors, countertops, fixtures, stainless steel appliances, and more. Its intense cleansing action cuts through all kinds of grime while its natural ingredients work to protect surfaces from future buildup.
Dilutes Easily
The multipurpose cleaner can be easily diluted with water to reach the desired strength depending on the completed task. This makes it easy to adjust how much you need without having to purchase multiple different bottles for different uses. It's also ideal for spot-cleaning those hard-to-reach crevices where dirt likes to hide away.
Multi-purpose Solution
Biokleen bathroom purpose cleaner is designed to tackle grime on multiple surfaces inside and outside the home.
Whether you're looking for an all-purpose solution for bathrooms or something that can easily handle kitchen spills, this cleaner is up for the job. Plus, it even works wonders on stubborn stains like mildew in shower curtains or carpets.
Positive Things:
Safe for chemical sensitivities or allergies
Made with natural citrus essence
Never made with artificial fragrances or dyes
The neutral pH formula is gentle on all surfaces
It breaks down organic matter easily
Insufficiencies:
The cleaner is a bit too thick and bubbly for everyday use.
---
5. Aunt Fannie's Natural Bathroom Surface Cleaner
Make your bathroom sparkle with Aunt Fannie's natural cleaner. Not only is this affordable and powerful cleaner non-toxic, but it is biodegradable and completely streak-free. A lavender scent lingers long after you're done cleaning tile, grout lines, or fixtures.
Non-Toxic and Biodegradable
Aunt Fannie's bathroom cleaner contains no harsh chemicals that can harm your health or the environment. The ingredients are all naturally-derived, non-toxic substances that are good for cleaning and safe for you and your household.
Pleasant Lavender Scent
It leaves a pleasant lavender scent behind that will fill your entire bathroom with its signature smell. All the natural oils in this formula help create a gentle yet aromatic fragrance that won't overpower you while using it, as some other cleaners do.
Effective on a Variety of Surfaces
Aunt Fannie's natural bathroom surface cleaner works well on just about any hard or soft surface you can find in your home. Whether it's porcelain or tile floors, shower walls, toilets, or countertops, this product works efficiently on almost every bathroom surface imaginable cleanly after each use.
No Streaks or Residue Left Behind
As mentioned before, one of the great things about using Aunt Fannie's natural cleaner is that it leaves no streaks or residue behind once you finish cleaning with it. That means you don't have to worry about leaving behind streaks when you're done wiping down surfaces. Everything will come out looking sparkling clean.
Cost Effective
Last but not least, Aunt Fannie's natural cleaner is very cost-effective compared to other current cleaners available on the market. It comes in an economical bottle, so you'll get plenty of product for less money that's perfect if you want to stock up ahead of time.
Positive Things:
Safe for people, pets, and the environment
Takes on tough jobs without harsh chemicals
Neutralizes odors and freshens the air
It comes in a spray bottle for easy application
Leaves surface crystal clear and smell fresh
Insufficiencies:
Lavender may smell strong and linger on some people.
---
Comparison Table of the Best Natural Cleaning Products for Bathroom
| | | | | |
| --- | --- | --- | --- | --- |
| Product | Item Form | Scent | Specific Uses | Material Feature |
| Better Life | Liquid | Unscented | Showers, Floors, Upholstery & Toilets | Plant Based |
| BON AMI | Powder | Unscented | Ceramic | Natural |
| Seventh Generation | Discrete Subunit | Emerald Cypress & Fir | Toilet | Biodegradable |
| Biokleen | Liquid | Citrus | Tile, Carpet & Upholstery | Natural |
| Aunt Fannie's | Liquid | Lavender | Tile, Window, Glass & Grout | Plant Based |
How to Choose the Best Natural Cleaners for Bathroom?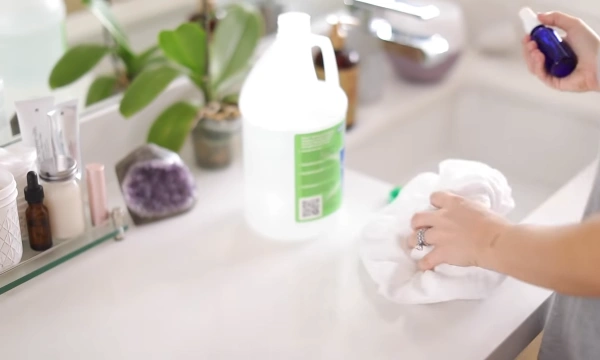 When selecting the best eco bathroom cleaner, there are several key factors, such as ingredients, environmental impact, safety ratings, cost-effectiveness, ease of application, and more. Let's take a closer look at these now.
Ingredients
Natural cleaning products should contain naturally-derived ingredients such as plant-based surfactants, enzymes, mineral oils, and essential oils. These ingredients will help break down dirt and grime without causing harm to humans or the environment.
It is also essential to look for natural preservatives such as citric acid and vitamin E that help keep products from spoiling over time. On the other hand, avoiding synthetic detergents, fragrances, and colorants is advisable when selecting a natural cleaner for the bathroom.
Synthetic detergents are made from petroleum byproducts and can be harsh on sensitive skin. Fragrances and colorants may contain harmful chemicals that can irritate the eyes and lungs when inhaled or ingested.
Unscented or Fragrance Options
Scented cleaners typically use essential oils like lavender, lemongrass, or tea tree oil which help freshen up your space while providing aromatherapy benefits. On the other hand, unscented cleaners don't have any added fragrance but still effectively clean surfaces without leaving behind any unwanted odors.
There are a few factors to consider when choosing between scented and unscented cleaning products. For example, some people have allergies to certain smells. Another thing to consider is if you want your space to smell nice after cleaning it. Also, you might have small children who could be bothered by strong smells.
Multi-surface Effectiveness
Multi-purpose use cleaners are ideal for bathrooms because they effectively clean tile floors, sinks, tubs, and toilets. These cleaners are typically formulated with plant-based surfactants, creating a light foam that lifts dirt away from surfaces without leaving behind streaks or residue.
Single-purpose cleaners may be cheaper, but you often have to buy multiple bottles for each thing you need to clean. A multi-purpose cleaner is a better choice because it works on all surfaces in the bathroom.
Safety and Health Concern
The best green bathroom cleaner should consider environmental and health concerns to avoid potential exposure to fumes and residues after traditional chemical-based cleaning.
Since natural cleaners are usually biodegradable, they don't pose a significant threat to ecosystems. Chemical cleaners might contain toxins like chlorine bleach, which interfere with aquatic life balance when released into waterways.
Some traditional cleaning solutions contain chemicals that can be harmful if you breathe them in for a long time. This can cause problems like asthma attacks or nose irritation.
Non-Scratching & Streak Free Formula
Cleaners made from natural ingredients, like essential oils and plant-based surfactants, break down grime and grit without leaving behind residue. Natural formulas are less likely to release toxic fumes or cause skin irritation. Look for products specifically formulated for bathroom use that have clear instructions on the label.
You can also combine baking soda, white vinegar, or lemon juice with other natural ingredients to create an effective solution for tougher messes if you are trying to find a cleaner with extra power.
Price Point Considerations
The price of a product is usually an indicator of its quality and effectiveness when it comes to natural cleaners. Generally, higher-quality products tend to cost more due to their superior ingredients and performance standards.
But budget-friendly options are also available from mainstream brands and independent producers. Do your research to compare different price points and determine which may provide the desired result without breaking the bank.
Other Features to Look For
Easy-to-use sprayers make cleaning tasks faster and more efficient, while dilution measurements on the label ensure that you use the correct product. And eco-friendly packaging and biodegradable solutions are both essential considerations.
If you suffer from allergies or sensitivities, you may also benefit from using a cleaner that has a pH balance indicator. Also, look for non-toxic elements, cruelty-free certification, hypoallergenic properties, and plant-derived ingredients.
With oxygen bleaching, stains are broken down, and germs are killed, while antibacterial elements help preserve surfaces.
How to Properly Use the Best Organic Bathroom Cleaner?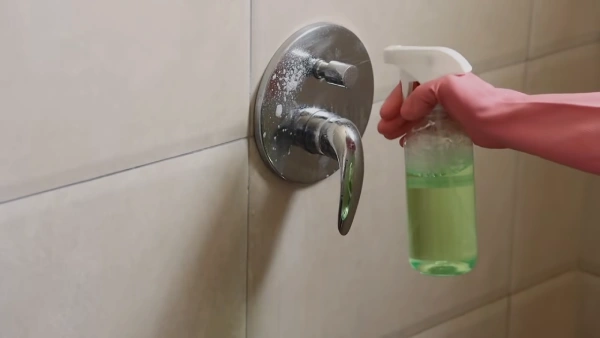 An organic bathroom cleaner is essential to keeping a bathroom clean and free from harmful bacteria. Selecting an appropriate cleaning product and following the manufacturer's instructions is crucial.
First, it is vital to identify the surfaces that need to be cleaned. If there are ceramic tiles, porcelain fixtures, or plastic surfaces in the bathroom, these should be cleaned with an organic cleaner specifically designed for them. An organic fabric softener should be used for textiles such as curtains and towels.
It is also essential to prepare the surface before applying any cleaning product. This involves removing any particles from the surface using a damp cloth or vacuum cleaner attachment. If there are any stubborn spots on the surface, they should be scrubbed gently with a soft brush before applying any cleaner.
Once the surfaces have been prepared, it is time to apply the chosen organic cleaning product using a cloth, sponge, or spray bottle, depending on its form. The product should then be left on for around 10 minutes before being wiped away with warm water and a fresh cloth or sponge.
Afterward, all surfaces should be dried thoroughly with a dry cloth or paper towel to prevent soap scum build-up and streaks from appearing on surfaces due to moisture left behind after cleaning.
Finally, it is essential to store unused organic cleaners in original containers away from light and heat sources such as radiators or ovens. Such temperature extremes can cause some ingredients in these products to deteriorate quickly, making them less effective when used later.
How Can I Clean My Bathroom without Chemicals?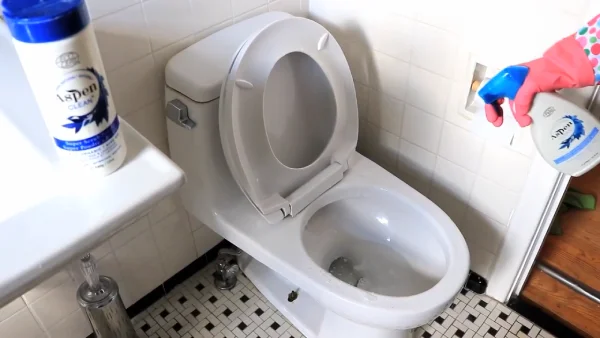 Cleaning your bathroom without using chemicals is an effective and environmentally-friendly way to keep it in tip-top shape. Simply sprinkle baking soda on the surface and scrub with a wet sponge. Adding mild soap or detergent to the mixture may produce better results.
You can purchase the best bathroom cleaner naturally, such as plant-based cleaners, non-toxic, multi-purpose sprays, and biodegradable soaps. These all are excellent alternatives to harsh chemicals.
How Can I Make My Bathroom Smell Fresh and Clean?
Making your bathroom smell fresh and clean can be achieved naturally by ensuring that air can freely flow throughout the space. A few drops of essential oils like lavender, peppermint, or eucalyptus can provide a pleasant aroma, while adding plants or flowers to your decor helps filter out odors.
Freshening up fabrics such as towels and mats is another excellent way to add a pleasant scent, while adding potpourri to shelves or countertops provides a subtle fragrance. For hassle-free solutions, you could invest in the best natural bathroom cleaning products that offer long-lasting results.
How Can I Disinfect My Bathroom without Bleach?
Disinfecting your bathroom without using bleach is possible by using alternative products like vinegar and baking soda. For example, mixing equal parts of vinegar and baking soda with some water creates an effective multipurpose cleaner suitable for disinfecting sinks and toilets safely.
You could also consider investing in the best non toxic bathroom cleaner disinfectants. No harsh chemicals or toxins are used in these products. Using these plant-based cleaners and eco-friendly sprays can protect against bacteria and germs for a long time.
What Kills Bacteria in the Bathroom?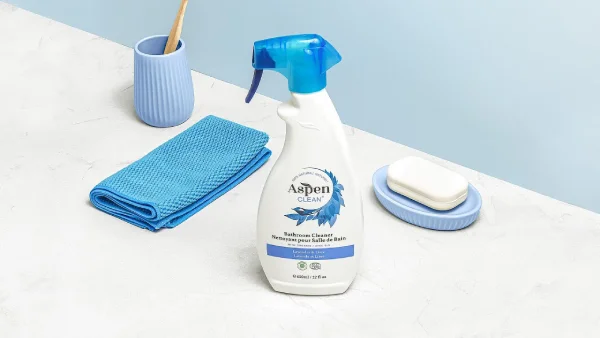 Keeping your bathroom free from germs and bacteria is key to maintaining a healthy environment at home. This involves regularly disinfecting surfaces with either chemical or natural products designed explicitly for killing bacteria effectively without leaving behind any residue or odors.
These include alcohol-based sanitizers, hydrogen peroxide-based cleaners, bleach-based solutions, and natural products such as tea tree oil, baking soda paste, citrus fruit juice, vinegar spray mixtures, etc. Also, keeping the area ventilated by allowing plenty of air circulation will help kill off airborne bacteria too.
Natural Bathroom Cleaners Are Safer and More Effective
Natural cleaning products can deep clean and disinfect your bathroom without toxic chemicals. When selecting the best natural bathroom cleaners, it's essential to consider various factors such as ingredients, unscented or fragrance options, multi-surface effectiveness, and safety concerns.
Also, it's crucial to understand how to use a natural cleaning product to get optimal results properly. Even without a natural cleaner, other alternatives, such as baking soda or vinegar, can help keep your bathroom smelling fresh and free of bacteria.
No matter which option is right for you, make sure it fits all your needs before making any purchases. Because of this, we suggest Better Life 2409C Unscented Natural Cleaner, which provides most of the benefits mentioned above at an affordable price.
Best Natural Bathroom Cleaners: Top 5 for Hygiene Care in 2023