Last Updated on February 5, 2023
Looking for the most effective way to clean those hard-to-reach spots in your shower? The best shower cleaning brush with a long handle can easily make cleaning your shower easy. This handy tool helps you reach those hard-to-reach corners of your bathroom and ensure every last bit of grime and dirt is gone.
These specialized brushes come with features ideal for this type of cleaning. Look for features like ergonomic handles, pivoting heads, strong bristles, adjustable handle settings, and durable handle materials like stainless steel or aluminum for superior corrosion resistance.
For your convenience, we've reviewed the top 5 long-handled shower cleaning brushes and a comparison chart. We will also guide how to choose the perfect long-handled brush for cleaning shower areas.
Best Shower Cleaning Brush With Long Handle: Expert's Choice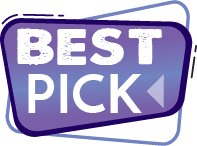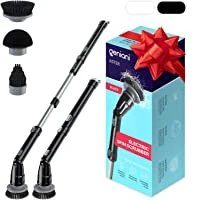 GENIANI Cordless Powerful Long Handle Brush for Bathroom Shower Cleaning
Keep your shower sparkling with GENIANI cordless long handle brush
● Brush Type: Electric
● Handle Material: Stainless Steel
● Brush Head Included: 3
● Adjustable Arm Length: 25"- 45"
● Item Weight: 3.63 pounds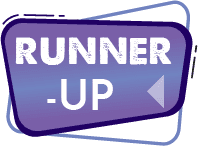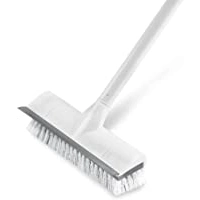 BOOMJOY Long Handled Cleaning Shower Brush
Eliminate stubborn stains with BOOMJOY's long-handled shower brush
● Brush Type: Manual
● Handle Material: Stainless Steel
● Brush Head Included: 1
● Adjustable Arm Length: 18.5"- 50"
● Item Weight: 1.32 pounds
Top 5 Long Handle Shower Cleaning Brushes: Reviews
The best bathroom cleaning brush with a long handle is the perfect tool for making your shower sparkle and shine. This brush is designed with a long handle, giving you the reach to scrub away all that grime and soap scum.
Below are the five best long handle shower cleaning brushes:
1. GENIANI Cordless Powerful Long Handle Brush for Bathroom Shower Cleaning
Looking for a way to tackle that tiring bathroom cleaning faster and easier? Say hello to the GENIANI cordless shower brush, your powerful ally in deep-cleaning those hard-to reach areas. Achieve quick, effortless results with its amazing features.
Powerful Cordless Cleaning Brush
With its 2500mAh rechargeable Advanced battery, the GENIANI cordless powerful long handle brush for bathroom shower cleaning ensures up to 90 minutes of cleaning time on a single charge. This means you can clean large areas with only one charge.
Plus, it has two operation modes, so you can choose the one that best suits your needs. With its 3.5 hours charging cycle, you can easily do whole-home cleaning.
No Need to Hard Press
This cordless brush has a powerful motor that makes quick and effective cleaning possible without hard pressing against any surface. It also features an Auto shut-off feature that prevents overcharging and overheating for safe use. On top of this, the brush operates at <70dB, which means it's quieter than other options.
Interchangeable Attachments
The GENIANI cordless brush has interchangeable flexible floor scrub brush bristles that let you choose between different types of surfaces while cleaning. As they are designed to rotate 360 degrees around their axis, they provide extra maneuverability during your cleaning tasks and better results every time.
Ergonomic Handle
These best shower cleaning brushes are designed with an ergonomic stainless steel handle, providing a comfortable grip throughout extended use periods without any fatigue or stress on the hands or arms.
It also includes an extension pole for those hard-to-reach areas, such as corners or behind furniture. This makes cleaning even the tightest spaces easy without having to strain or overextend yourself too much.
Pros:
2 operation modes 380 RPM & 280 RPM
Multiple brush attachments for different jobs
Ideal for people with joint problems or old age people
Three different angles to hold the brush
Cleans corners and tight spaces with ease
Con:
Too heavy to use for a long time
---
2. BOOMJOY Long Handled Cleaning Shower Brush
Struggling to remove tough stains and reach hard-to-reach areas? Don't worry. The BOOMJOY long-handled shower brush is here to help. This brush is lightweight, easy to use, and has an ergonomic handle that makes scrubbing a breeze.
Sale
Dual Brushes for Effective Scrubbing
The BOOMJOY shower cleaning brushes are equipped with two different brushes, one soft non-scratch durable bristles and the other stiffer bristles that won't bend under pressure. Together they effectively remove soap scum, grime, and stubborn stains from any type of flooring surface.
Angled Head for Tight Spaces
The head of this cleaning brush is angled for easy access into tight spaces like corners and crevices. Its non-slip grip handle ensures safety and stability while you work, while the ergonomic design makes it comfortable and easy to use.
Safe on ALL Floor Types
These shower cleaning brushes are suitable for dry or wet cleaning virtually any floor. From hardwood to tile, laminate to linoleum; it can be used as both a brush and a scraper, so you can clean multiple surfaces without having to switch tools.
Lightweight and Easy to Use
The BOOMJOY cleaning brushes are lightweight yet durable enough for long-term use, making them an ideal choice for tackling tough jobs or day-to-day maintenance tasks. It's also very simple to assemble, so you can start scrubbing immediately.
Pros:
Two bristles serve as brush and scraper
Includes squeegee to help get rid of excess water
The ergonomic handle makes it comfortable
It comes with a squeegee to stop spills
Easy Assembly & No tools required
Con:
Not suitable for heavy-duty cleaning
---
3. Sticque Cordless Shower Cleaning Brush with Long Extension Arm
Get your shower spick-and-span with the Sticque cordless shower cleaning brush. This compact and versatile brush makes cleaning easier than ever with its long extension arm and 360-degree cordless head rotation.
Compact and Lightweight Design
The Sticque cleaning brush features an ultra-compact and lightweight design that makes it easy to maneuver in tight spaces.
With just one button operation, you can start cleaning with ease. Also, the brush offers 360 degrees of cordless rotation that ensures even coverage in hard-to-reach areas.
Long extension Cordless design
This Sticque cordless shower cleaning brush with a long extension arm has a long extension arm that allows you to reach tough spots without stretching or straining yourself. It's powered by a rechargeable 2000mAh battery that provides up to 90 minutes of runtime.
Leakage Protection Technology
Due to its advanced leakage protection technology, it's safe to charge, and it's durable, so it's great for long-term use. Plus, its sealed design keeps water out when not used so that you can store it safely away after each use.
Multi-Purpose Brush Heads
This versatile shower floor brush comes equipped with five different brush heads, allowing you to tackle any dirty surface easily. Plus, its automatic shut-off feature ensures your safety by shutting off power if an overload or short circuit is detected.
Powerful and Rechargeable Brush
The Sticque cordless cleaning brush for the shower is designed with an ergonomic handle that comfortably fits your hand while also providing powerful suction so you can clean faster and more effectively.
Pros:
Rotating scrubber makes cleaning faster and easier
Automatic shut-off protects your surfaces from scratches
The sealed design prevents water from seeping in
No need for harsh chemicals or expensive cleaners
No need for difficult assembly
Con:
It does not have enough torque
---
4. CLEANHOME Extendable Long Handle Shower Brush for Cleaning
Say goodbye to tough spots and stains with the CLEANHOME Extendable Long Handle Shower Brush. This multifunctional cleaning tool is designed for extended use of its high-quality construction.
Sale
Multiple Scrubbing Surfaces
The CLEANHOME extendable long handle shower brush for Cleaning features three different functions that help you tackle any mess.
The first is a scrubbing brush made from sturdy polypropylene bristles, ideal for scrubbing away dirt and grime.
Next, it has a scouring pad which provides added scraping power to tackle tougher stains.
Last, a microfiber pad is designed to gently scrub stubborn soils without scratching delicate surfaces.
Durable Construction
With its high-quality materials and construction techniques, the CLEANHOME shower cleaning brush is built to last. This ensures that your brush will stay strong and durable even after repeated use.
It also comes with a rustproof stainless steel handle, so you can be sure that your brush won't succumb to wear and tear over time.
Comfortable Grip and Extendable Handle
This long-handle cleaning shower brush offers an easy-to-grip design, allowing you to clean confidently in even the tightest spaces without fear of slipping or dropping your brush mid-scrub session.
It also features an adjustable length, so you can easily adjust the length between 35" and 52" depending on how far you need to reach into those hard-to-get spots.
Multifunctional Cleaning Tool:
The shower brush isn't limited to bathrooms, as it can multitask around the house. With its versatility, you can use this brush on everything from car detailing to living room floors to shower walls and tile grout lines.
Pros:
Easily clean scuffs and marks from walls and other surfaces
Durable construction ensures long-lasting use
Comes with a soft, non-scratch scrubbing pad
Extendable handle reaches those hard-to-clean places
Specially designed to reach every nook and cranny
Con:
Spiked, sharpened brush can cut thumbs
---
5. MR.SIGA Heavy Duty Brush with Long Handle for Shower Cleaning
Get your shower clean in no time with the MR.SIGA heavy-duty brushes for shower cleaning. These brushes are designed for superior cleaning performance, maneuverability, and durability, perfect for tackling tough jobs.
Sale
Strong Cleaning Broom
The MR.SIGA heavy duty brush with long handle for shower cleaning features a durable plastic and sturdy steel pole construction that ensures it can withstand even the toughest household cleaning tasks.
Its durable PP bristles easily scrub dirt and grime, allowing you to easily get into tight spaces. Plus, the handle's ergonomic design ensures that it remains comfortable to use throughout your cleaning routine.
Non-Scratch Brush
This heavy-duty brush has an angled head that lets you quickly clean corners and ceilings without fear of scratching delicate surfaces. Its specialized bristles are gentle enough on surfaces while still being effective at removing dirt and grime from even the most hard-to-reach places.
Maneuverable Swivel Head
The 180-degree swivel head of this best scrub brush for cleaning showers makes it incredibly easy to maneuver around tight spaces like corners or behind furniture. It also has a foam-wrapped handle top, so you won't experience fatigue when using it for extended periods.
Adjustable Long Handle
There's a 3-section sturdy steel handle on the MR SIGA Heavy Duty Brush with Long Handle, which lets you reach high ceilings or awkward areas like vents without worrying about ladder safety. Its V shape stiff bristles make it easier to tackle tough stains while still being gentle on surfaces when necessary.
Pros:
A non-slip grip ensures a stable grip while in use
Cleans tough build-up and grime with little effort
Eliminates excessive bending and stretching
Non abrasive bristles will not scratch surfaces
Con:
The handle may rust after prolonged use
---
Comparison Chart for the Best Long Handled Shower Cleaning Brush
| | | | | | |
| --- | --- | --- | --- | --- | --- |
| Product | Brush Type | Handle Material | Brush Head Included | Adjustable Arm Length | Item Weight |
| GENIANI B09F6S1HSS | Electric | Stainless Steel | 3 | 25"- 45" | 3.63 pounds |
| BOOMJOY B07WRWNR61 | Manual | Stainless Steel | 1 | 18.5"- 50" | 1.32 pounds |
| Sticque B0BKQ1PLM7 | Electric | Stainless Steel | 5 | 24.5"- 43.7" | 2.64 pounds |
| CLEANHOME B09GF2LSZ8 | Manual | Stainless Steel | 3 | 35"- 52" | 1.83 pounds |
| MR.SIGA B09CH3S33T | Manual | Plastic, Steel | 1 | 17"- 50" | 1.26 pounds |
How to Choose the Best Long Handle Brush for Cleaning Shower Areas?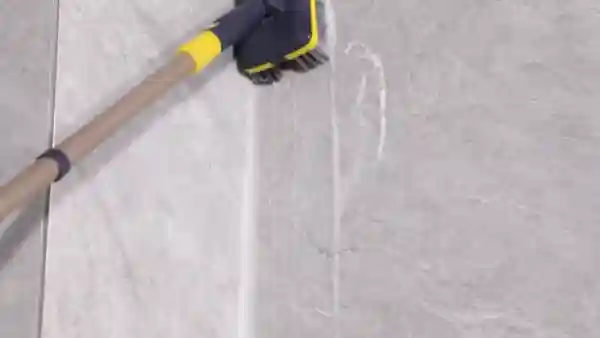 A long-handled brush is the best tool to help you tackle those hard-to-reach places in your shower and make it sparkle. But how do you know which type is the best for your needs?
Here are some tips to help you choose the right long-handle brush for cleaning shower areas:
Brush Head Type
When selecting a brush with a long handle for cleaning showers, consider what type of head best suits your needs. Pivoting heads can reach all those hard-to-get corners, while flat-head brushes are great at lathering up soap and scrubbing tile walls efficiently.
Opt for a brush with stiff bristles if you need extra scrubbing power. They'll be able to take on tough dirt and grime without too much effort from you!
Bristle Material & Durability
Bristles are also crucial when selecting a long-handled brush. The bristle material also plays an important role in choosing the right long-handled brush for brushing shower areas. Polypropylene or plastic bristles are ideal as they are highly durable and won't rust like metal bristles might over time.
Furthermore, these materials aren't porous, so there's less chance of bacteria growth, which is essential when working with wet environments like showers.
When considering durability, look for bristles that don't easily bend or break when applying pressure. This will ensure your brush lasts even after many cleaning sessions.
Handle Material & Design
For optimal maneuverability when cleaning your shower area, choose an ergonomically designed handle with an anti-slip grip that fits comfortably in your hand. This will help you move the brush around easily and make cleaning easier.
An ergonomically designed handle will fit comfortably in your hand, whether small or large. Also, an anti-slip grip handle will help keep your grip secure even when things get slippery.
Length of Handle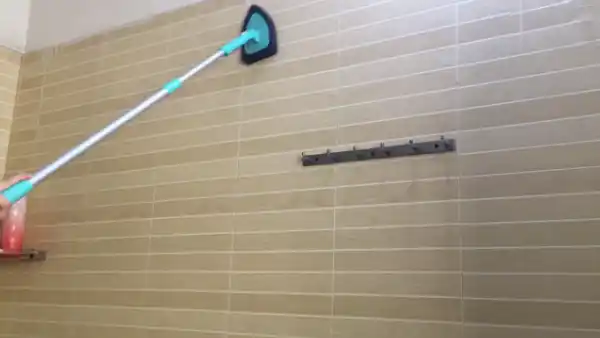 You need to consider the handle length when choosing the best shower cleaner brush with a long handle. A long handle brush is ideal if you need to reach into a deep corner or hard-to-reach area.
The length of the handle should be comfortable for you to hold and not too short or too long. An adjustable handle will allow you to get the right length and make it easier to clean awkward spots.
The Angle of Bristles
The angle of the bristles is also essential when selecting a long-handle brush. Angled bristles can help you get into tight corners more effectively and with less effort, making cleaning easier and faster.
Choose brushes with soft bristles that are durable and won't scratch surfaces while still providing effective scrubbing when needed.
Replacement Availability
Finally, consider replacement availability when choosing the best long handle shower scrubbing brush. Look for brushes with replaceable brush heads so that when one wears out, you can quickly find a replacement without buying an entirely new brush.
This will save money in the long run and time spent searching for a suitable new brush every time one wears out.
What Kind of Long Handle Brush Should I Use to Clean My Shower?
For effective shower cleaning, it is recommended to use a cordless rechargeable power scrubber brush. This long-handled brush is ideal for removing dirt and grime without having to strain your arms or back.
It is equipped with powerful scrubbing bristles designed to reach deep into crevices and corners, eliminating build-up quickly and easily. Also, since the brush is cordless, it allows you to maneuver around the space freely and tackle those hard-to-reach spots.
Can I Use a Long-Handled Cleaning Scrub Brush in the Shower Bathtub?
You can scrub the shower bathtub with a long-handled shower brush. These brushes are specially designed for this purpose and make it much easier than hand scrubbing alone.
They come in various shapes and sizes, allowing you to choose one that fits your specific needs. Furthermore, these brushes have extra long handles that allow you to reach higher areas without straining your back or neck.
Do Shower Cleaning Scrub Brushes Hold Bacteria?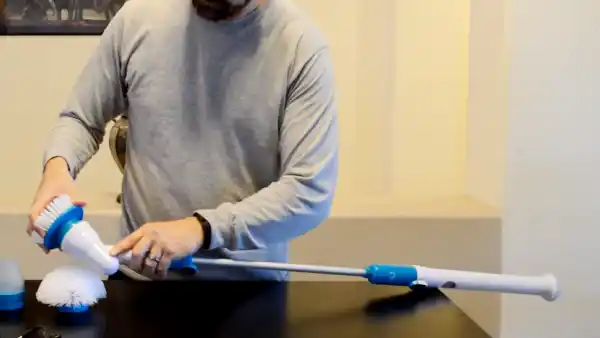 Shower-cleaning scrub brushes can hold bacteria if they are not regularly cleaned. It is essential to disinfect them after each use so that accumulated germs don't spread throughout the bathroom or other areas in your house.
To do this properly, submerge the brush in hot water mixed with an antibacterial solution or spray it with a disinfectant spray specifically for cleaning tools like these brushes. Make sure to rinse off thoroughly afterward before storing away for future use!
Does the Head Shape of the Long Handle Shower Cleaning Brush Matter?
The head shape of a long-handle shower scrub brush matters in terms of efficiency and versatility. A well-shaped brush head can make it easier to access hard-to-reach areas while being gentle on surfaces.
Different shapes are designed for different uses, such as cleaning grout lines, mildew and soap scum, and other difficult areas.
Some brushes have an angled head which helps reach tight spaces, while others feature a flat or curved design for scrubbing and polishing surfaces. Also, some models come with soft or stiff bristles for a customized cleaning experience.
Is it Okay to Use a Dry Shower Cleaning Brush in the shower?
Although you can use a dry brush for shower cleaning, it is not recommended. Because friction between surfaces and bristles can damage both surfaces and bristles over time if you use a dry shower scrubbing brush.
When using a dry brush, you should use special techniques such as circular motions or light strokes to avoid damage caused by too much pressure and abrasion.
Also, using a wet brush would help reduce water spots caused by mineral deposits that may be left behind after drying off with a dry brush, so it is always best practice to use one dampened one before entering the shower area instead.
Should I Clean My Long Handle Shower Cleaning Brush After Every Use?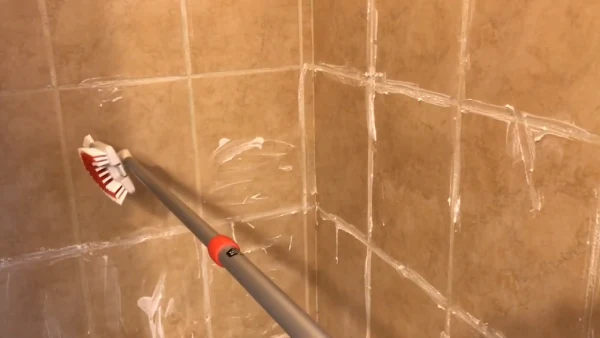 When you use your long-handle shower scrub brush, it's essential to clean it. This helps remove any germs, bacteria, or mold that may have accumulated on the bristles during use.
Also, it helps to keep your brush looking and working like new for longer periods. You can clean the brush using a mild soap and warm water solution and rinse well with hot running water afterward.
For extra sanitizing power, add a small amount of white vinegar or baking soda to the solution. Make sure to allow the bristles to dry completely before putting them away so that no moisture remains in the bristles.
Tackle Hard-To-Reach Shower Spots With an Extended Shower Cleaning Brush
When it comes down to finding the best long-handled shower cleaning brush for your needs, there are a few factors you need to consider, such as brush head type, bristle material, material durability, and handle material & design.
These features are essential in selecting the right one that will meet your requirements and make cleaning easier. With all these things considered, you should now be able to find the perfect long-handled shower scrubbing brush.
Even though the five products listed above can clean your shower well, the GENIANI cordless powerful long handle brush for bathroom shower cleaning is an excellent combination of power and convenience.
This handy cleaning brush provides maximum efficiency and comfort while cleaning your bathrooms and showers.
Best Shower Cleaning Brush With Long Handle: Top 5 Selected in 2023