Last Updated on February 5, 2023
The drain gradually becomes clogged with black sludge. Food particles, grease, hair and soap scum create back sludge in the drain.
It builds up in the pipes, causing clogging and slowing water flow. Overflows can also happen if you don't clean them. It releases foul odors and attracts pests. You need a powerful drain cleaner to clean and remove black slime from the drain.
You can easily and quickly flush out black sludge with the best drain cleaner. These drain cleaners use strong chemicals to break up and remove the gunk. Here we share some top drain cleaners for removing black sludge and keeping water flowing normally.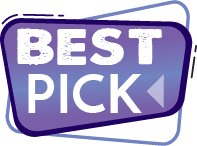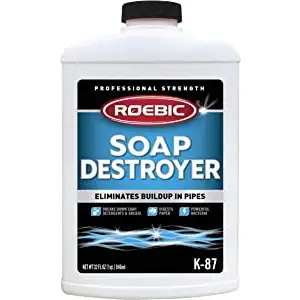 Roebic Shock Bacterial Drain and Trap Cleaner
● Biodegradable bacteria formula
● Eliminates buildup in pipes
● Removes paper clogs
● Safe for all plumbing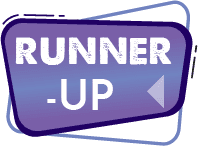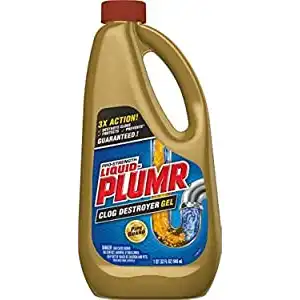 Liquid-Plumr Disposal and Drain Cleaner
● 3-in-1 formula
● Clears total blockages
● Maintains clog-free pipes
● Versatile Applications
What Drain Cleaner is Safe for Septic Systems?
Maintaining a septic system requires using cleaners that are safe for both the tank and the drain field. The wrong cleaner can harm the bacteria that break down waste, causing the system to fail.
Septic system drain cleaners should consider a few factors. Choose a cleaner that is designed for septic systems. These cleaners typically digest organic material without harming the beneficial bacteria in the septic tank.
Avoid cleaners that contain harsh chemicals, as these can kill the bacteria in the septic tank. You need to follow the directions on the cleaner carefully.
✳ Roebic Shock Bacterial Drain and Trap Cleaner
Roebic Shock is a bacterial drain cleaner that quickly eliminates any buildup in pipes. It's easy to use, biodegradable, and leaves your drains free of harmful chemicals. The cleaner will break down clogged paper in your bathroom drain pipes without damaging them.
It safely breaks down waste and keeps pipes free of backups. This substance is naturally derived and safe for all plumbing. It keeps your septic system running smoothly. This powerful cleaner can treat up to 500 gallons, making it a high choice for systems with larger capacity.
How Can This Product Help You?
Roebic Shock Bacterial Drain and Trap Cleaner is an enzyme digester that is all-natural. It unclogs the bathroom sink and bathtub while reducing the odor from the leach field. The product results in clear drains and no smell.
You can use it to dissolve clogs in detergent reservoirs. The product is safe to use on a toddler's bathroom drain. It's safe for all types of carpet shampoo machines so that you can use it easily. You should use this product every 6 weeks to keep your drains and traps clean.
Pros
All-natural enzyme digester
Keeps septic system working properly
Unclogs sinks and bathtubs
Eliminates leach field odors
Clears soap and toothpaste clogs
Resolves detergent reservoir clogs
Cons
Results may require two applications for overbuilding
---
What is a Safe Drain Cleaner for Toilets?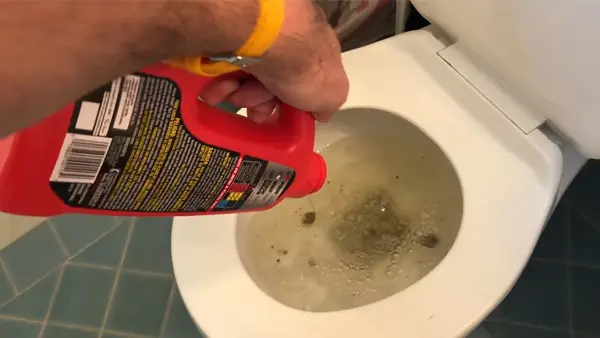 Toilets can also be one of the most difficult to clean when clogged with black sludge and grime. Over time, mineral deposits and organic matter can build up in the drain, causing clogs and bad odors.
When cleaning your toilets, you must use a drain cleaner that is safe for the porcelain but also effective on tough stains. Drain cleaners are available in plenty, but not all are safe for toilets.
Some of the ingredients in drain cleaners can damage the finish on toilets. The chemicals in these products can cause corrosion. They can be dangerous if inhaled or ingested.
✳ Compac Home Plink Fizzy Drain Freshener and Cleaner
This product comes with a powerful tablet with enzymatic technology to break down grease and grime quickly and easily. It is a convenient product that helps clean your bathroom sink drain and prevent build-up. 
You can use it with any septic system, so it's great for homeowners. This stuff gets rid of clogs and slow drains without special tools. It is designed to be used once per Plink and should be used in conjunction with Sink Daisy for best results. 
How Can This Product Help You?
Compac Home plink fizzy drain freshener and cleaner is a tablet that dissolves in hot water in a minute. It is a quick and easy way to eliminate bad smells in your drains. One month of use will leave your drains smelling fresh and clean!
It is a great way to keep your drains free of flies. This cleaner is also effective at removing food stuck on dishes, making it a great choice for busy households.
Pros
Dissolves in warm water in a minute
Removes food stuck on dishes
Eliminates bad smells quickly
Keeps the sink smelling fresh
Keeps drain flies away
One month of no stink
Cons
The lemon scent disappears quickly
---
What is The Strongest Clog Remover?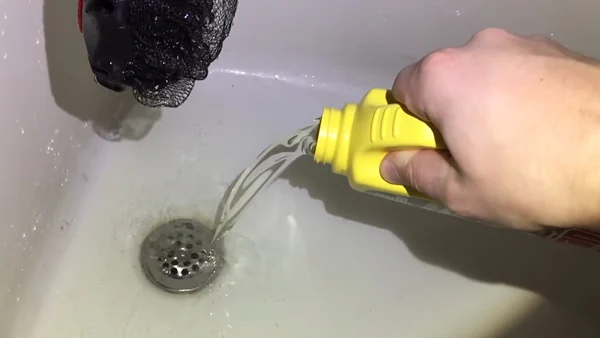 When you have the toughest clogs, you need a strong drain cleaner to get the job done. These cleaners use powerful chemicals to dissolve grease, hair, or soap scum. 
Choose a drain cleaner that won't damage your plastic pipes and powerful enough to clean the toughest clogs. We recommend using a drain cleaner from the Liquid-Plumr.
This product is also safe for metal pipes. You should not use this cleaner with a plunger or mixing with ammonia.
➤ Liquid-Plumr Disposal and Drain Cleaner
Liquid-Plumr is a powerful and fast-acting drain cleaner that clears drains and prevents clogs while cutting through standing water. It can unclog slow-running drains and destroy hair, grease, and soap scum buildup.
The product shields pipes from damage while removing clogs. It is versatile and can be used in a variety of applications, including kitchen sinks, showers, tubs, and garbage disposals. This liquid product comes in a convenient 32-ounce bottle.
How Can This Product Help You?
This stuff dissolves clogs and prevents them from happening again. It's safe to use on most drains and can be used regularly to keep them clear.
You'll be able to clear hair with this drain cleaner. It also works on standing water and clogged drains, making it the perfect choice for apartment drainage issues.
Liquid-Plumr disposal and drain cleaner work on garbage disposals and other areas. It works best with hot water for 15 minutes.
Pros
Clears drains quickly
Suitable for most drains
Removes clogs, hair, and standing water
Regular use prevents clogs
Great for garbage disposals
Cons
The smell disappears in three or four hours
---
What is the Safest Drain Cleaner for PVC Pipes?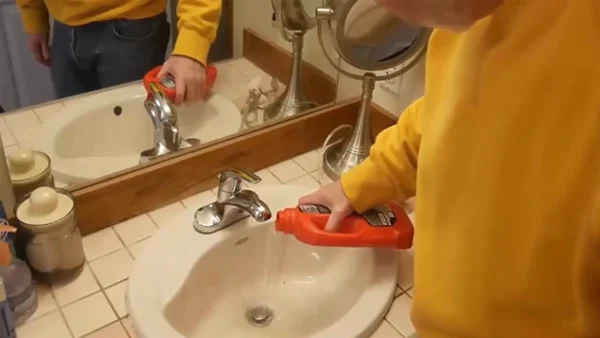 Most drain cleaners are highly corrosive and can damage PVC pipes if used too frequently. There are a few drain cleaners that are specifically designed for use with PVC pipes.
In general, enzymatic drain cleaners are the best option for PVC pipes. Enzymatic cleaners are safe for both your pipes and the environment. Using these cleaners, you can get grease, oil, and fat off. They can be used more often without causing damage. 
These drain pipe cleaners often contain enzymes that break down organic waste, making them more effective at clearing clogs. Here is a product that you can use safely on PVC pipes.
➤ Green Gobbler Enzyme Drain Cleaner
Green Gobbler is a line of enzyme-based drain cleaners specifically designed to remove black sludge and eliminate odors. The lemon-scented formula works instantly to remove organic matter and is safe for use in garbage disposals. 
It is also effective at deodorizing sinks and drains. This stuff breaks down black sludge that accumulates in drains over time. Using this green gobbler drain cleaner is easy and effective, and it is safe to use on grease, oil, food, and fats.
How Can This Product Help You?
It helps break down the build-up of black sludge in your drains so that they can function properly again. The Green Gobbler enzyme drain cleaner can help keep your sink drain smelling good. If you have any stubborn odor in your bathroom, this product can help remove it.
You can drain the sludge and prevent buildup in AC drip lines with it. The product eliminates odors for up to a month. It is an easy-to-use drain cleaner that needs to be used monthly for the best results.
Pros
Eliminates kitchen smells
Freshens up sink drains
Helps to drain good
Prevents AC drip line buildup
Removes odors for a month
Cons
Less effective for very old buildup
Hard to put in an unremovable drain plug
---
Is there a Safe Drain Cleaner for a Laundry Drain?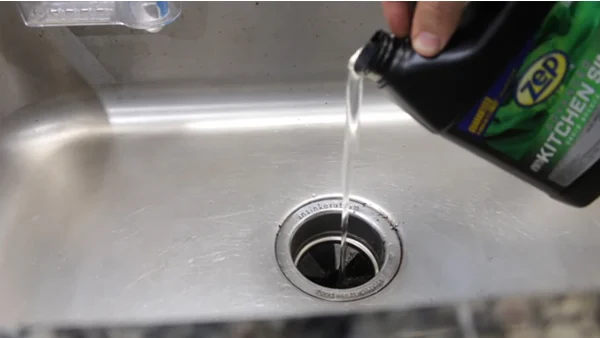 If your laundry sink is starting to back up or drain slowly, you may wonder if there are any natural drain cleaners you can use at home. Some drain cleaners contain harsh chemicals that can damage your pipes or cause other problems.
They should be non-toxic and leave no harsh fumes or residue. You can use the eco-friendly and safe drain cleaner in your kitchen to clean the sink and keep it smelling fresh.
➤ Biokleen Natural Drain Cleaner for Laundry Drain
If your drains often become clogged with black sludge, try using Biokleen's natural drain cleaner. This product is eco-friendly and non-toxic, making it safe for both your drains and the environment. It is a safe and effective way to remove tough odors and build-up from your laundry drain.
You can rest easy knowing that your drain is clean and smell-free because it leaves no residue or harsh fumes. This plant-based product is free of artificial fragrances, so it's perfect for those with sensitivities.
How Can This Product Help You?
The Biokleen natural drain cleaner for laundry drain is perfect for eliminating foul smells in your laundry sink. It is environmentally friendly and uses a non-obnoxious smell.
It does not require you to remove the plug from the sink drain. This laundry drain cleaner will not damage bronze fixtures. You can use it if your drains are constantly clogged with gunk.
This product is specifically designed to prevent drain build-up and clear the P-trap in your sink. You can use it once a week to keep your sink smelling great.
Pros
Sink deodorizer that works great
Environmentally friendly
Clears P-trap in the sink
Prevents drain build-up
Won't damage bronze fixtures
Clears drains of gunk
Cons
Less effective for slow draining sink
---
Now you can easily choose the best drain cleaner for gunk or sludge depending on your needs. From the reviews above, you might understand they serve multiple purposes. You can use any of the cleaners listed above to keep your drain clean and odor-free.
Buying Guide for The Best Drain Cleaner for Black Sludge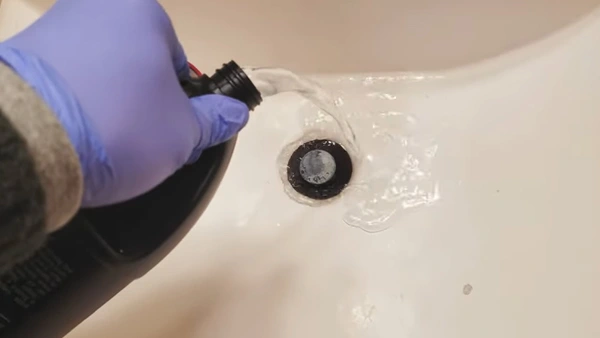 Are you noticing that your drains are backing up more often than usual? When you do finally get them unclogged, is the water coming out darker than it should be? These are both signs that it's time to purchase a drain cleaner for lint or black sludge.
But with so many products on the market, it can be tough to know which one to choose. Here are a few things to look for before making your purchase:
Type Of Drain Cleaner:
Different cleaners come in different forms. Some are in gel form, while others are in powder form. There are also liquid cleaners and drain strips. Each type has its own advantages and disadvantages.
Gel drain cleaner is thick and can't always reach the entire length of the drain. They need a few minutes to contact the clog to be effective. You need to flush the drain with hot water.
Powder form cleaners are easier to use than gels. They can clean the entire drain quickly. The product melts with water within a minute and starts working.
Liquid cleaners are easy to use and don't require any mixing. You need to measure the right amount of cleaner to use. It can take a few minutes for the liquid to reach the clog. You must be careful while using these cleaners as they can splash and cause burns.
Drain strips are very easy to apply without mixing. They are safe to use on all types of pipes. Just insert a drain strip into the drain and let it dissolve. They remove the odor caused by bacteria and leave a fresh scent behind.
Item Volume:
You need to see its volume before choosing one. Product volume will give you an insight into how long you can use it. If you have a big house with many drains, choose a large-size product so that it can be used in every drain of your house.
On the other hand, a small-size product is enough for a single drain. The quantity also affects product price. Generally, a high-volume drain cleaner is costly.
Ingredients and Safety:
Not all drain cleaners are created equal. Some cleaners can damage your pipes and cause health problems. It can cause burns, eye damage, and respiratory problems. You need to wear gloves and eye protection when using these products.
Others rely on natural ingredients that are gentle on your plumbing and safe for your kids and pets. You may also want to look for a drain cleaner that contains enzymes.
These eat away at the organic matter, making them ideal for kitchens and bathrooms. They may not work as quickly as chemical cleaners, but they won't damage your pipes or harm your kids.
Effectiveness and Multipurpose:
Not all drain cleaners can remove all types of clogs. Some are better at removing fully clogged drains, while others are better at slow drains. If you're unsure what type of clog you have, it's best to choose a drain cleaner that can handle both.
Some cleaners are designed specifically for grease, food waste or hair clogs. A few drain cleaners can remove the paper and other small objects that may be stuck in your drain.
A multipurpose drain cleaner can save you time and money. You can use it in the kitchen, bathroom, and laundry room. They are also great for clearing clogged shower drains, tubs, and sinks.
Time to Wash after Application:
After applying drain cleaners, you need to wait for some time so that it can work on the clogged drain. The working time of a drain cleaner depends on its ingredients. For example, an enzyme-based cleaner may take longer to work than a chemical one.
You should also check the manufacturer's instructions before using any drain cleaner. Some need to be left for an hour or more, while others only need a few minutes.
Can Drain Cleaner for Sludge Remove Paper Clogs?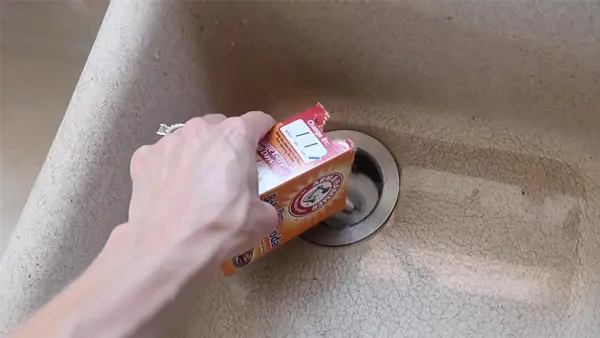 While some paper products will dissolve in water, others will not. Toilet paper is typically made from a mix of both types of paper, which is why it will usually break down when you flush it. Other products like paper towels and napkins can cause clogs.
Many products claim to be able to clear away even the toughest clogs, but not all of them are effective on paper. That's because paper products, like toilet paper and paper towels, tend to break down slowly in water. Consequently, they can easily form a bulky mass that is difficult for even the strongest drain cleaner to penetrate.
You can also use a drain cleaner specifically designed for paper clogs, such as the Roebic K-87 soap destroyer. This product is safe for all types of pipes and septic systems, and it's biodegradable.
Do Drain Cleaning Enzymes Work to Remove Black Sludge?
Drain cleaning enzymes are designed to break down organic matter, such as hair, grease, and food waste. Theoretically, they make water flow easier through the pipes.
Note that drain cleaning enzymes are not a miracle cure-all. They will not dissolve inorganic materials, such as metals or glass.
How often to Use Enzyme Drain Cleaner?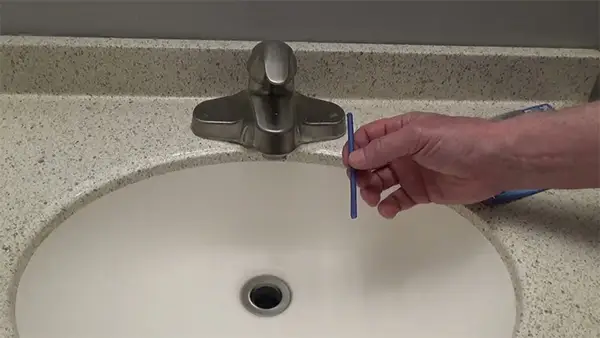 It depends on a number of factors, including the severity of your clog, the type of drain cleaner you're using, and how often you use your drains. In general, we recommend using enzyme drain cleaner once a week to maintain your drains clear and prevent build-up.
You may need to use it more frequently if you have a particularly severe clog. And if you use your drains regularly, you may need to use them less often.
What is the PH of a Liquid Drain Cleaner?
The pH of these liquids is usually between 1 and 2. It means they are very acidic and can cause serious burns if they come into contact with the skin. 
They are typically made of strong acids, such as sulfuric acid, hydrochloric acid, or nitric acid. As the hydronium ions from drain cleaner react with electrons in your pipes, they create heat that can melt the clog.
How to Clean Black Sludge in Drain Naturally without Chemical Drain Cleaners?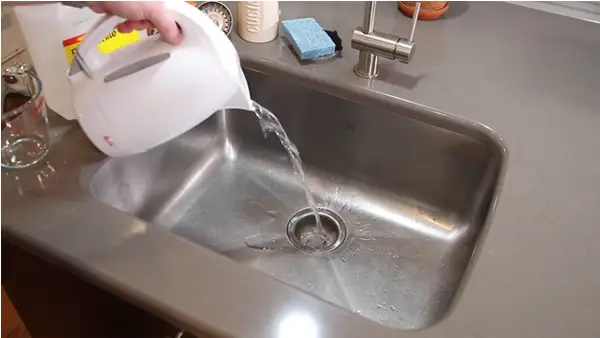 A clogged drain is one of the most annoying things that can happen in your home. If you're dealing with a sewage sludge build-up in your drain, there are a few natural ways to clean it out.
Method 1) Boiling Water:
You can clean black sludge out of your drain using nothing more than boiling water. The high temperatures will help to dissolve the lint, allowing it to be washed away easily.
Boiling water is a natural disinfectant, so it will also help to kill any bacteria that may be present. Simply pour a pot of boiling water down the drain and wait for a few minutes, then run cold water to flush everything away.
Method 2) Plunger or Drain Snake:
If that doesn't work, you can try using a plunger or a drain snake. This will help to loosen the oil sludge so that it can be flushed down the drain.
To use a plunger, simply place it over the drain and push and pull the handle up and down. For a drain snake, insert the end into the drain and twist it around until you feel resistance.
Method 3) Vinegar and Baking Soda:
Vinegar and baking soda are a classic combination that can be used for a variety of cleaning tasks, including unclogging drains. The vinegar dissolves sewage sludge, while the baking soda will act as a scrubber to break it up.
Mix equal parts vinegar and baking soda and pour it down the drain. Let it sit for a few minutes before running the hot water to flush everything away.
Method 4) Lemon Juice:
Lemon juice is another natural ingredient that cleans black sludge from your drain. The citric acid in lemon juice helps to break down the oil sludge, making it much easier to wipe away.
Simply apply the lemon juice to the affected area and wait a few minutes before wiping it away with a cloth or sponge. You may need to repeat the process a few times for tough buildup. It is a natural and effective way to clean black sludge without harsh chemicals.
Method 5) Salt, Borax, and Vinegar:
One effective way to remove black sludge is to use a mixture of salt, borax, and vinegar. Simply combine equal parts salt and borax, then add enough vinegar to create a paste.
Apply the paste and wait for several hours before scrubbing with a soft brush. This simple cleaning method should help to remove black sludge quickly and easily.
What is the Best Chemical to Unclog Drains?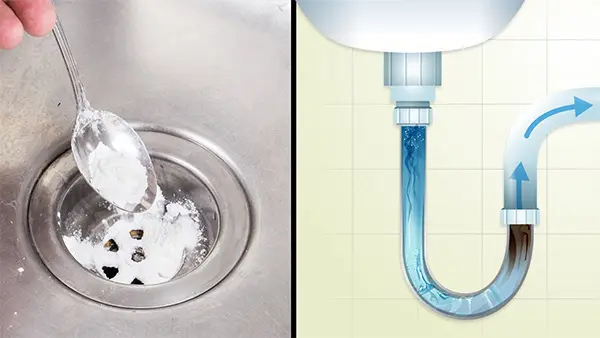 Caustic soda, also known as sodium hydroxide, is a powerful chemical drain cleaner used to clean black sludge from pipes. This substance is highly alkaline, and it reacts with organic matter to break it down.
It can quickly dissolve hair and soap scum, two of the most common causes of clogged drains.
What is the Shelf Life of a Drain Cleaner?
Most drain cleaners have a shelf life of 2-3 years. But, once you open the bottle, the clock starts ticking, and the cleaner will lose its potency. Check the expiration date on the bottle before using it.
The lifespan of a drain cleaner is affected by many factors, including the type of cleaner, the ingredients, and how it is stored.
Drain cleaners are made up of harsh chemicals that can break down over time, making them less effective. The degradation of these chemicals can be accelerated by exposure to heat or light. For this reason, it is best to store drain cleaners in a cool, dark place.
Bleach-based cleaners will last longer if stored in a cool, dry place. Natural cleaners made with vinegar or baking soda may not last as long, but they are less likely to cause harm if they are used past their expiration date.
Now you may understand which is the best drain cleaner for black sludge. Read our product review and buying guide carefully before making your purchase.
Best Drain Cleaner for Black Sludge: Top 5 Pick in 2023