Last Updated on August 28, 2023
Accidentally spilled laundry detergent in your car?
Don't worry; we're here to help. It's actually not as challenging to clean as you might think – and you can learn how to do it quickly and easily from us.
By following our simple tips, you'll be able to clean up the mess and have your car looking good as new in no time at all. Plus, you'll save yourself the hassle of having to take it to a professional car detailing service.
Read this article now for more information on how to clean spilled laundry detergent in car.
What to do If You Spill Laundry Detergent in Your Car?
If you spill laundry detergent in your car, the main thing to do is to act quickly. The longer it sits there, the harder and more time-consuming it will be to clean up and remove the stains and spills completely.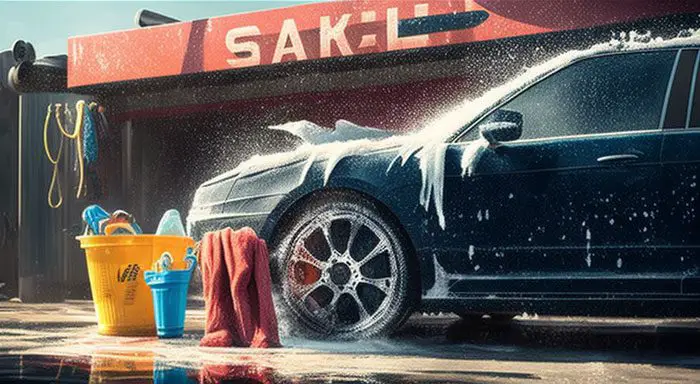 Plus, if they aren't removed immediately, you risk damaging your car seats when you try cleaning them. So, to avoid all this hassle and wasted time, it's best to act as soon as you've fallen victim to the spill.
How to Clean Spilled Laundry Detergent in Car | 3 Steps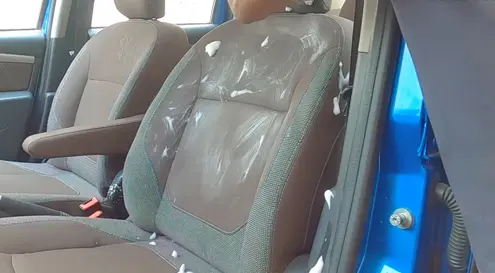 The following are the best steps you can follow in cleaning spilled laundry detergent in your car:
Step 1: Use Paper Towels
Take a stack of paper towels and soak up as much liquid from the car seat as you can.
If there are any pieces of detergent still sitting on the surface, make sure to wipe it away with your paper towel or else it will become more difficult to clean later on.
Step 2: Use Club Soda
If the spill is still wet, pour some club soda onto it to further remove any left pieces. Then you can continue blotting up the spill with your paper towels until dry.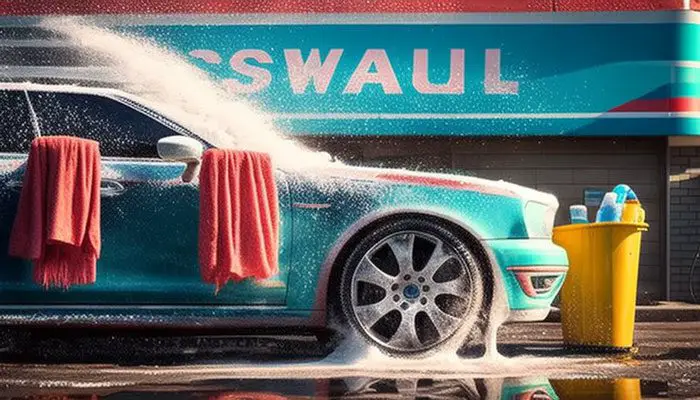 Step 3: Use a Tape
Try tapping an already dampened piece of paper towel over the spill and leaving it on overnight for tough stains that may not have come out completely. As the paper towel soaks up more of the spill, it should get easier to clean in the morning.
Once you've done all these steps, try vacuuming any pieces that may have been left behind from scraping them away with a credit card or other plastic item.
Utilize these steps to maintain the appearance of your car by cleaning spilled laundry detergent in a vehicle.
Different Ways to Clean a Spilt Laundry Detergent?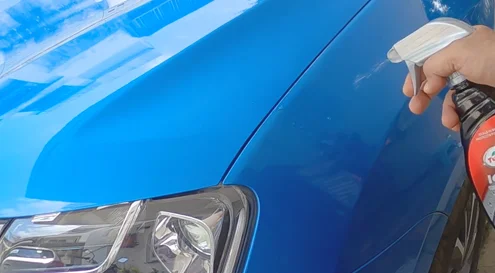 Other methods can also be used to clean a car that has been spilled laundry detergent.  Among the most effective ways is by spilling baking soda over your car seat and leaving it overnight; then, you can vacuum it up once dry.
Not only does this method help remove stains from the car seat, but it also leaves your car smelling nice and fresh.
Besides baking soda, such as salt or even cornstarch, you can even use other ingredients. Either one should work just fine in removing laundry detergent spills from your car seats.
However, if you want something that smells nicer and is easier to clean up, we suggest baking soda.
How to Prevent It from Happening Again?
The only way to help prevent this from happening again is by being more aware of your surroundings. If you're someone who often does loads of laundry in their car, it might be best to find another place to do so or to bring a mat with you so that spills can't happen.
If it's already too late and you've spilled laundry detergent in your car, make sure not to delay any further action. Instead, try using the above tips on how to clean up the mess as quickly as possible.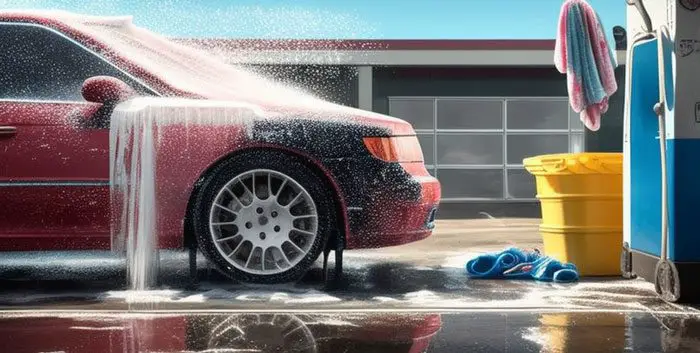 Try taking them along with you when you do your laundry in the streets if you have kids. If they're with you, it's less likely that they'll be able to spill detergent all over your car seats while you're not looking.
Then you can save yourself some hassle by following these simple steps on how to clean spilled laundry detergent in a car.
FAQs
Does Spilled Laundry Detergent Leave Residue on The Dashboard?
Yes, spilled laundry detergent will leave a sticky residue on the dashboard, and it can be difficult to remove.
How Can I Remove it From The Leather Seats?
The best way to remove laundry detergent from the seats is with a little dish soap and an old toothbrush.
What Should I do if there is a Visible Stain in My Seat?
If you find a stain, it's recommended to take the seat covers off and clean them in the washing machine.
Is it Safe to Use a Vacuum to Clean up a Spill?
A vacuum will work on a light spill, but it cannot pick up heavier clumps of detergent.
What is The Best Way to Remove Dried Laundry Detergent?
Dried detergent can be difficult to remove. It's best to use some dish soap and water on a sponge or scrub brush.
Can Laundry Detergent Damage a Car?
A large amount of detergent can damage the fabric of the car. Be careful not to pour too much into the machine and remove any residue.
What is The Best Thing to Wash Your Car With?
It's recommended to use a laundry detergent that is mainly just water.
Conclusion
If you have spilled laundry detergent in your car, hopefully, this guide will help you find the best way to clean it up. We've covered a variety of methods that work for different types of spills and stains on both fabric and leather seats. If all else fails, call one of our experts who are always ready with effective solutions.
How to Clean Spilled Laundry Detergent in Car | Fast 3 Steps