Last Updated on February 5, 2023
Don't worry about your travertine shower is a chore to clean, just find the right cleaner and be sure it will sparkle. The best travertine shower cleaner is one that's biodegradable, non-abrasive, pH balanced, and doesn't contain ammonia.
This ensures that the travertine surface is not harmed in any way and helps maintain its delicate beauty. The product should smell nice and not have any odors and be easy to use with a spray bottle.
You shouldn't need to mix or dilute the formula itself since the good product comes ready to use. After using the cleaner, you can expect to see a streak-free, polished finish on your travertine shower surface. Check out our detailed reviews of 5 top-rated cleaners, so pick an option tailored just right for you.
Best Travertine Shower Cleaner | Editor's Choice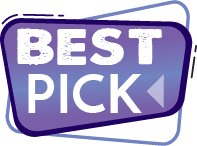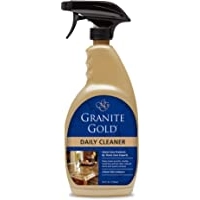 Granite Gold Travertine Shower Daily Cleaner
Stronger, deep cleaner without the harsh chemicals and odors
● Item Form: Liquid, Spray Bottle
● Scent: Citrus
● Item Volume: 24 Fl. Oz.
● pH Balanced: Yes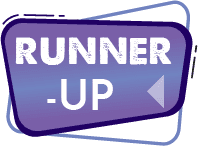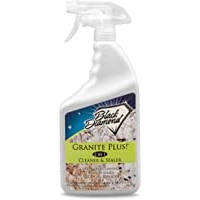 Black Diamond Granite Cleaner for Travertine Shower
Powerful cleaner with protective sealer for a travertine shower
● Item Form: Liquid, Spray Bottle
● Scent: Pleasing scent
● Item Volume: 32 Fl. Oz.
● pH Balanced: Yes
Top 5 Cleaners for Travertine Shower Tiles: Reviewed by Expert
Finding the best cleaner for travertine surfaces in your shower requires taking the time to investigate each product's features.
Examining a product's features allows you to determine how well it cleans and whether it is safe for travertine surfaces, removes tough stains, and contains harmful chemicals. Get ready to clean like never before with these top picks.
1. Granite Gold Travertine Shower Daily Cleaner
Get your travertine shower back to tip-top condition with Granite Gold Travertine shower cleaner. This powerhouse of a cleaner comprises features that make it the perfect choice for your travertine surface. Experience hassle-free travertine cleaning today, and make sure to check out all its amazing features.
Sale
Deep Cleaning with Streak-free Finish
Granite Gold travertine shower daily cleaner provides deep cleaning action to help remove stubborn stains and grime from travertine showers. It breaks down dirt and soap scum without leaving behind streaks or film.
Nice Light Citrus Scent
The pleasant light citrus scent of this cleaner will make daily cleaning your shower a more enjoyable experience. Not only does the smell make it easier to bear, but it also helps eliminate unpleasant odors caused by soap scum and other buildups in your shower.
Easy to Apply
This cleaner comes in a convenient spray bottle that ensures quick application on any travertine surface.
The convenient design allows for fast cleaning with minimal fuss so that you can get back to enjoying your travertine shower again in no time.
Safe Cleaning
Granite Gold cleaner is made with environmentally friendly ingredients that are biodegradable and free from strong odors or harsh chemicals such as phosphates and ammonia.
This means you can use it safely, knowing your health or the environment won't be at risk while still getting effective cleaning power every time.
Pros:
pH-balanced and ammonia-free for a safe clean
No harsh or harmful fumes, phosphates, or odors
Easy to use, ready to spray or disposable wipes
Streak-free finish and light citrus scent
Preserve and protect your travertine shower
Cons:
The spray bottle may not spray appropriately after a few uses
---
2. Black Diamond Granite Cleaner for Travertine Shower
Get maximum cleaning power with Black Diamond, the natural and highly effective solution specially made to keep your travertine showers sparkling. Enjoy these impressive benefits:
Sale
Streak-Free Clean
This unique natural stones cleaner has been specially formulated to provide deep cleansing power without leaving streaks or residue behind. This makes it ideal for keeping travertine showers looking sparkling clean and streak-free with minimal effort.
pH Neutral Cleaner, No-rinse Hypoallergenic Formula
The formula used in Black Diamond travertine cleaner is totally pH neutral, making it gentle enough to use on even the most sensitive skin without causing any irritation or inflammation.
Its hypoallergenic nature means that it can be used safely around those who suffer from allergies and asthma without fear of triggering an allergic reaction.
The no-rinse formulation also makes this product easy to use, as there's no need to rinse off excess cleaner afterward.
Ready to Use 
The ready-to-use spray bottle provided with this cleaner eliminates the need for mixing solutions together or struggling with complicated instructions.
Simply point the nozzle at the surface you wish to clean and spray liberally onto the area before wiping it away with a soft cloth or sponge.
Built-In Sealer 
One of the best features of this cleaner is its built-in sealant which bonds directly onto travertine surfaces providing additional protection against staining and discoloration over time. This sealant will help keep your shower looking new for longer.
Pros:
Leaves a streak-free finish
Safe for food contact and pH neutral
No-rinse, hypoallergenic formula makes it easy to clean
Built-in sealer protects travertine shower against staining
Used and endorsed by stone care professionals
Cons:
Remaining residue may appear if the surface is not properly cleaned and rinsed
---
3. Stone Care International Travertine Shower Cleaner
Bring out the best in your travertine surfaces with Stone Care International's extraordinary travertine shower cleaner.
This amazing cleaning solution will make those areas shine and has plenty of features worth discovering. Stop by and explore the features that may just put a smile on your face.
Safe Cleaning
Stone Care International travertine shower cleaner is a safe formula without harsh chemicals that could potentially damage your travertine surfaces. It contains no bleach or ammonia, which means you don't have to worry about damaging your travertine floors and walls.
Streak-Free Cleaning 
This cleaner is specially formulated to provide an amazing streak-free clean that leaves your travertine surfaces sparklingly clean and bright.
With its unique combination of natural ingredients, it effectively cleans away dirt, grime, soap scums, and other debris while leaving behind no streaks or residue.
Protect Travertine's Seal 
One of the main benefits of using this shower cleaner is its ability to protect your travertine seal from deterioration.
The well-balanced pH formula helps ensure that the delicate sealing layer isn't damaged during cleaning. So you can enjoy long-lasting protection against water intrusion and staining.
Easy Use Spray Bottle 
Another great feature of this cleaner is the convenient spray bottle it comes in. This gives you total control over how much cleaner goes where without ever having to worry about making a mess.
Good Volume 
The Stone Care International cleaner comes in 32 Fluid Ounce packs of two which means you can enjoy plenty of cleaner at once without needing to purchase more frequently than necessary.
This is great if you have a large bathroom shower space or multiple bathrooms, as there's no need to worry about running out soon after opening the first bottle.
Pros:
Safe for everyday use on all travertine surfaces
Fast and easy streak-free cleaning
pH-balanced formula
Prevents seal deterioration
Brings out travertine's natural beauty
Comes in a convenient 32-ounce spray bottle with 2 pack
Cons:
After multiple uses, the spray bottle may weaken
---
4. Marblelife Travertine Shower Cleaner
Marblelife cleaner can be a good choice for keeping your travertine shower looking its best. This easy-to-use solution will safely and effectively remove dirt, dust, and grime, leaving nothing but a beautiful finish. Check out all the great features it has to offer today.
Safe to Use
The Marblelife travertine shower cleaner is developed with their "InterCare" technology. It uses an advanced blend of natural nutrients and bioactive enzymes for safe and effective travertine shower cleaning.
This acid-free cleaner is gentle enough to use on travertine tile surfaces without causing damage. It is also completely oil and wax free, so you won't have to worry about leaving any residue behind.
Streak-free performance 
When used as directed on the label, this cleaner will deliver streak-free results every time. The formula breaks down dirt particles into smaller pieces that can be easily wiped away for a sparkling finish.
Its powerful yet mild ingredients work hard to remove soap scum build-up for a sparkling shine with no effort whatsoever.
No Odor 
Unlike many other cleaners that leave behind a strong chemical smell after usage, this cleaner has zero offensive odors. As a result, you get all the cleaning power without any lingering smell that could harm your health.
Easy to Use
The Marblelife travertine shower cleaner comes in an easy-to-use spray bottle which makes it simple to apply directly onto the desired surface area quickly and efficiently with just a few quick sprays.
Pros:
Uses InterCare technology for gentle cleaning
Oil and wax free, so no residue is left behind
Easy to use, just spray and wipe
Zero offensive odor, safer for your health
Fast and effective formula that does not damage stone seals
Cons:
Repeated use may clog the spray bottle's spring
---
5. StoneTech Mold & Mildew Stain Travertine Shower Cleaner
StoneTech travertine shower cleaner is here to make your showering experience worry-free. This powerful cleaner easily and safely removes deep stains while protecting the natural stone of your travertines.
Let's take a look at some awesome features that come with this amazing product, along with its many benefits.
Clean Deep-Rooted Stains 
This cleaner is specifically formulated to be powerful enough to remove even deep-rooted dirt and stains from stone surfaces.
It is designed with advanced cleaning technology that penetrates deep into crevices and eliminates tough stains without damaging the natural stone surface.
Cleans Without Tarnishing Natural Stone Surfaces 
The concentrated formulation of the StoneTech mold & mildew stain travertine shower cleaner provides superior cleaning performance while protecting the natural stone surface from tarnishing or becoming discolored over time.
Ready to Use
The StoneTech cleaner is very easy to use. It comes in a spray bottle that is already mixed and does not need to be diluted before you use it.
Enough Volume
This cleaner comes in two bottles of 24 ounces each which makes it a cost-effective solution for larger areas. Such as larger bathrooms or commercial facilities where more volume may be needed for successful results.
Pros:
Effective cleaning mold and mildew from travertine showers
Doesn't tarnish natural stone surfaces
Foaming action sprayer prevents messy drips
Ready to use, no mixing or dilution necessary
Leaves behind a fresh, pleasant smell
Cons:
Some people may get skin irritation, so wear gloves
---
Comparison Chart of the Best Cleaner for Travertine Tiles
| | | | |
| --- | --- | --- | --- |
| Product Name | Scent | Volume | Sealer Feature Included |
| Granite Gold Shower Cleaner | Citrus | 24 Fl. Oz. (1 Pack) | No |
| Black Diamond Stoneworks Granite Plus Cleaner | Pleasing scent | 32 Fl. Oz. (1 Pack) | Yes |
| Stone Care International Travertine Tiles Cleaner | Travertine, Light | 32 Fl. Oz. each, (2 Pack) | No |
| Marblelife InterCare Marble and Travertine Cleaner | No odor | 32 Fl. Oz. | No |
| StoneTech Travertine Tiles Cleaner | Fresh, Natural | 24-Ounce each, (2 Pack) | No |
Factors to Consider When Choosing the Best Cleaner for Travertine Shower Tiles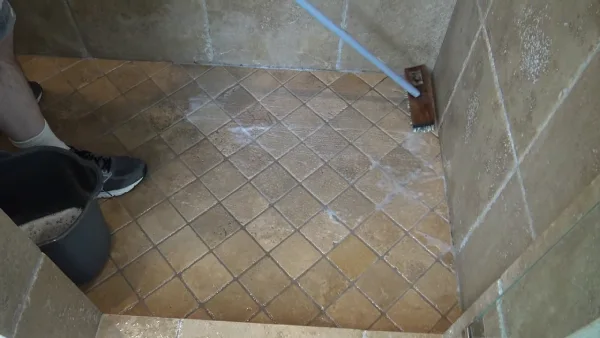 To make sure that you are purchasing the best travertine shower cleaner for your needs, it is important to consider a few key factors. Consider these things when choosing a travertine shower cleaner:
1. Ingredients
When choosing the right cleaner for your travertine shower, it is essential to ensure that the ingredients are biodegradable, non-abrasive, and pH neutral or pH balanced.
It is important to look for products that do not contain phosphates and ammonia, as they can harm travertine stones. This type of stone is a unique material and needs to be treated with special care.
Cleaners that are specially formulated for use on travertine surfaces should be chosen to ensure optimum results.
2. Scent
The scent of a travertine shower tile cleaner is an important aspect to consider when selecting one for your bathroom.
Look for a product that has a light, pleasant scent, such as citrus, instead of strong or harmful odors. Not only will this make your shower area more inviting, but it will also help preserve the natural beauty of your travertine floor surfaces.
3. Cleaning Capability and Finish Type
It's important to choose a travertine porous natural stone cleaner that offers deep cleaning capabilities without leaving behind any streaks or residue on the surface.
The best cleaners will be able to remove dirt, grime, soap scum, and other contaminants while still leaving behind a streak-free finish that restores the natural beauty of the stone.
4. Easy to Use
Having a no-rinse formula makes it easier and more convenient to clean travertine showers since it doesn't need water mixed in. Just use it straight up, scrub and wash the tile surface with warm water.
Look for cleaners that come in spray bottles which allow you to easily apply the product over large areas in just a few sprays so you can save time while getting excellent results.
5. Volume of Product
When choosing the travertine porous natural stone cleaner, consider how much product you need by looking at the volume size available in stores.
Popular sizes include 24 fluid ounces, 32 fluid ounces, and 1 or 2 packs, so you can choose one depending on how often you plan on using it or what size fits into your budget better.
6. Sealing Feature Included 
Some specialized cleaners come with built-in sealers, which help protect against stains and water damage over time.
Choosing one with this feature included ensures that your surfaces stay in top condition longer compared to other products, which may only provide temporary protection against dirt buildup.
What Shouldn't You Use to Clean a Travertine Shower?
When cleaning a travertine shower, there are certain products you should avoid. These include acidic-based cleansers such as vinegar, lemon juice, or ammonia which can etch and dull the tile's finish over time.
Other products, such as abrasive scrub pads or steel wool, may also scratch and damage the stone if used too harshly.
Highly alkaline cleaning products like bleach should be avoided as they can discolor or fade the color of your travertine tile over time, making it look old and worn out prematurely.
How Often Should You Clean Travertine Shower Tiles?
The frequency of cleaning travertine tiles can vary depending on your needs and preferences. Other factors include your bathroom's location, climate, and how much you use it every day.
On average, it is recommended that you thoroughly clean your travertine tiles at least once a week using a natural, pH-balanced cleaner. Your shower doesn't get filthy and stays looking good.
Regular spot travertine shower cleaning can help minimize grime buildup between major deep cleanses while also increasing overall hygiene levels within your bathroom shower environment.
Does Travertine Tile In a Shower Need to Be Sealed After Each Cleaning?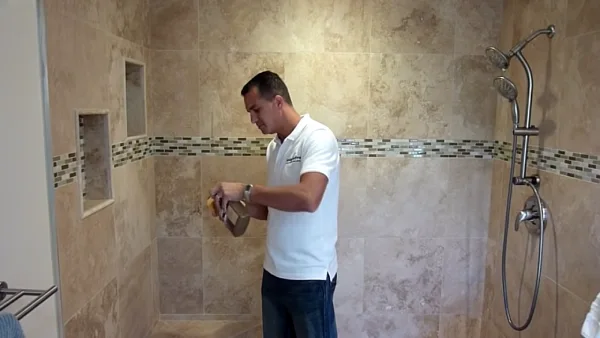 There's no need to seal the travertine tile in a shower after each cleaning. To keep your travertine shower's unique charm for several years, give the travertine tiles an occasional sealing every 3-5 years.
Sealing the tile will also provide added protection from water damage and make it easier to clean. It is also suggested that you use a professional travertine stone cleaner when sealing travertine tiles, as they possess the necessary knowledge and expertise to apply the sealant properly.
Keeping Your Travertine Shower Fresh Without Compromise
Whenever you're shopping for a travertine shower cleaner, keep in mind what we mentioned in the buying guide.
Look for one that doesn't leave streaks, is non-abrasive, pH balanced, and free of ammonia so that it won't deteriorate your stone. You should also pay attention to any odors or fragrances.
Among all of these features we have reviewed, Granite Gold travertine shower cleaner is the best option out there based on all of these features listed above.
So if you're looking for quality results without damaging your lovely travertines, then Granite Gold is definitely worth considering.
Sale
Granite Gold Daily Cleaner Streak-Free Cleaning for Granite, Marble, Travertine, Quartz, Natural Stone Countertops, and Floors, 24 Fluid Ounces, 1-Pack, Fl Oz
For everyday deep cleaning to preserve and protect your natural stone sink, countertop, floor, tile,…
Specially formulated for granite, marble, travertine, limestone, slate, quartzite, all other…
Available in an easy, ready to use spray (and refill) or disposable wipe application; the formula is…
Best Travertine Shower Cleaner: Top 5 Eco-Friendly in 2023