Last Updated on December 5, 2022
When cooking food, it is necessary to prepare all the ingredients, and some ingredients, such as garlic, onions, and fish, may release strong odors. 
As soon as you have prepared the ingredients, you dispose of the leftovers in your kitchen trash can. After a few hours, the odor from the garbage can seeps into the air, causing your kitchen to smell. 
Sometimes cooking odors can linger for days, even after emptying the trash or opening the windows to let the air out. A good way to eliminate cooking odors is to use an air freshener. 
But you need to use the best air freshener for cooking smells to keep your kitchen smelling fresh and clean. 
Avoid low-quality air fresheners, which may contain harmful chemicals and are not so effective in removing the smell of cooking. It is a good idea to check out the reviews of different air fresheners to find the best one.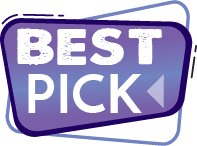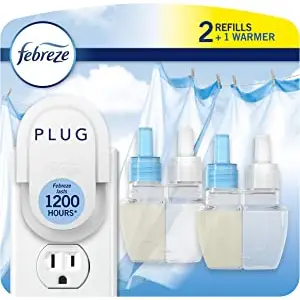 Febreze Plug In Air Freshener and Odor Eliminator
● Type: Plug-in
● Scent: Linen & Sky
● Quantity: 1 Warmer + 2 Oil Refills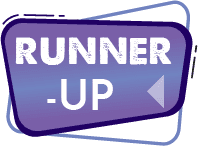 Air Wick Pure Freshmatic 2 Refills Automatic Spray
● Type: Spray
● Scent: Pumpkin Spice
● Quantity: 2 Refills
Different Types of Air Fresheners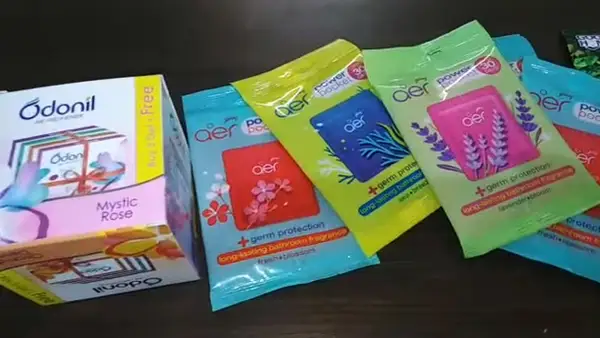 There are a lot of different air fresheners on the market these days. And it can be tough to keep up with all the different options. 
It's important to know about the different types of air fresheners because each one has its own advantages and disadvantages. Below are some of the most common types of air fresheners:
1. Plug-In Air Freshener
This type of air freshener is a small device that is plugged into an electrical outlet. It uses a heating element to warm up a scented oil, which is then released into the air. 
The amount of fragrance released can be adjusted to choose just the right level for your home. There are many different fragrances available, so you can choose one that complements your decor or create a custom scent by mixing different oils.
2. Gel Air Freshener
As the name suggests, this type of air freshener consists of a gel that contains a fragrance. Gel air fresheners are actually made up of two main components, which are gel beads and essential oils. 
Gel beads are designed to slowly release the essential oils into the air, providing a long-lasting fragrance. The natural essential oils used in gel air fresheners can vary depending on the desired scent, but some common options include lavender, lemon, and peppermint. 
3. Spray Air Freshener
A spray air freshener is an aerosol product that releases a fine fragrance mist into the air to mask unpleasant smells. When the trigger is pressed, the perfume oil is released from the canister and quickly evaporates, leaving behind a pleasant scent. 
In addition to trap odors, spray air fresheners can also help to create a more pleasant ambiance in a room or kitchen. Some spray air fresheners are working automatic dispensers that can be set to release a mist of fragrance at regular intervals.
4. Bar Air Freshener
It consists of a solid block of fragrance that can be placed in any room to provide a long-lasting and light scent. Bar air fresheners are made with various materials, including wax, soap, and clay. 
They typically contain essential oil, which slowly evaporates over time to release the fragrance into the air. Bar air fresheners can be placed on a shelf or in a drawer or hung from a wall or door.
Plug-In Air Freshener vs. Automatic Spray Air Freshener: Best Option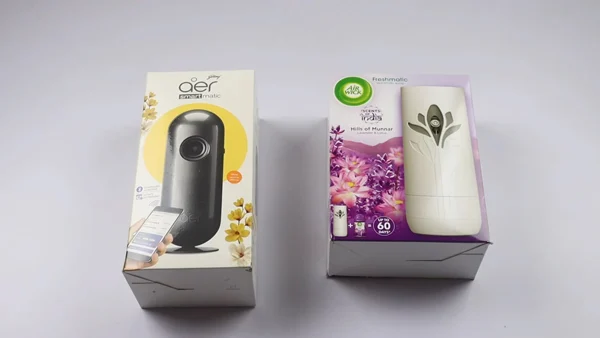 The choice between an automatic spray air freshener or a plug-in air freshener really depends on personal preference. Both types of air fresheners are effective at masking odors and creating a more pleasant ambiance in your home. But their working mechanisms are different.
Plug-in air fresheners require an electrical outlet for operation. The device plugs into the outlet and heats the scented oil with a heating element. 
Since it uses electricity, it may add a small amount to your monthly energy bill. The good thing about it is that you can stop using it whenever you like. Consequently, you will be able to save the scented liquid for future use as well.
On the other hand, automatic spray air fresheners don't require any plugs. Batteries power them, and they spray a fine mist of fragrance regularly. 
Some spray air fresheners allow you to select how often you would like the air freshener to spray. This gives you some control over how much fragrance is released into the air. 
Manually operated spray air fresheners are also available. You need to press a button whenever you want it to spray. You must select the one that is most appropriate for your needs.
Best Plug-In Air Freshener for Kitchen
Having learned about plug-in air fresheners, if you realize that you require one for your kitchen, the following product may be of interest to you. 
It will be a great addition to your kitchen, making it smell wonderful at all times. Look at the features, specifications, positives, and cons below.
✴ Febreze Plug In Air Freshener and Odor Eliminator
Febreze offers this plug-in air freshener that consists of one Febreze Fade Defy PLUG coupled with two scented oil refills. 
The low-level indicator light will alert you when it is time to refill, so you do not have to worry about running out of freshness. Due to digital control technology, your kitchen will never have too much or too little scent.
Reasons That May Attract You:
Upon low setting, these air fresheners last up to 50 days and provide a refreshing scent that will enhance the ambiance in your kitchen. 
With this air freshener, you can enjoy the fresh, clean scent of Linen & Sky, which is reminiscent of the outdoors. 
When you use the Febreze air freshener,  you can be confident that your kitchen will smell great and the bad odors will be eliminated. This will allow you to concentrate on cooking and entertaining.
Good Aspects:
Delivers a fresh, clean scent that lasts up to 50 days
Linen & Sky scent evokes a sense of being outside
Indicator light to alert when to refill the tank
Digital control for the perfect amount of scent every time
Eliminates bad odors
Deficiencies:
Occasionally, small amounts of oil may drip from the air freshener
Some people may find the smell a bit strong
---
Best Automatic Spray Air Freshener
If you would prefer an automatic spray air freshener for your kitchen, you may want to consider the following product. 
You will enjoy having it in your kitchen, as it will always provide you with a delightful aroma. Here are the specifications, features, pros, and cons of this product.
✴ Air Wick Pure Freshmatic 2 Refills Automatic Spray
The Air Wick air freshener contains a sweet pumpkin, warm spices, and whipped cream fragrance. It is easy to use due to its automatic spray format. 
You will receive two refills so that you will be able to keep your kitchen smelling fresh for a longer period of time.
Reasons That May Attract You:
This air freshener provides up to 120 days of continuous fragrance when set to the low setting. The stylish design complements any kitchen decor. It provides continuous fragrance and odor neutralization 24/7.
With the Air Wick automatic spray, you are able to adjust the level of fragrance in your kitchen according to your preferences. The settings are low, medium, and high. One AA battery is all you need to get started.
Good Aspects:
Easy to use automatic spray format
Contains two refills for long-lasting freshness
Sleek design fits perfectly into any kitchen decor
Adjust the level of fragrance with low, medium, and high settings
Pleasant sweet pumpkin, baking spices, and whipped cream scent
Deficiencies:
The sprayer may make a little noise when spraying, but it works well
The smell may not appeal to some individuals
---
What Is the Suitable Fragrance for the Kitchen from the Air Freshener?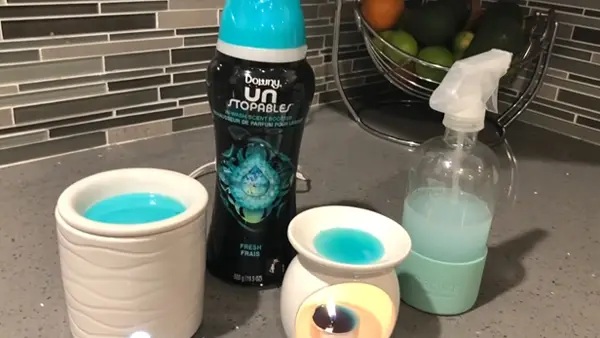 It is a matter of personal preference which air freshener fragrance is used in the kitchen. There are many different types of air fresheners available on the market, each with its unique scent. 
The best air freshener for the kitchen should have a pleasant and relaxing scent that will not be too overwhelming. Lavender is a good choice as it has a calming effect and can neutralize strong odors. 
You may also want to consider using an air freshener with a citrus scent as it can help refresh the air and eliminate cooking odors. Linen and pumpkin spice are also popular choices for the kitchen as they can create a warm and inviting atmosphere.
Good Quality Kitchen Air Fresheners With Pleasant Scented
There are many scented air fresheners on the market, so it is essential to choose the perfect air freshener that you feel comfortable with. 
The following products are worth checking out if you are looking for a good quality air freshener that has a pleasant scent, is capable of eliminating odors, and lasts for a long time:
➤ Bright Air Solid Air Freshener and Odor Eliminator
Bright Air's air freshener is designed to eliminate pesky odors and keep your space smelling fresh and clean. Due to its solid gel form, it has a longer shelf life. 
This pack has six air fresheners, and each weighs 14 oz. The scent is cool and clean, so your kitchen will smell wonderful.
Reasons That May Attract You:
You may like this product because it is derived from plants and uses essential oils to create natural fragrances. 
This product has no phthalates, triclosan, or BHT, so you can rest assured that your family is protected from any harmful chemicals. 
The Bright Air odor eliminator and air freshener do not require batteries or plugs, so it is extremely convenient. 
With this product, your kitchen surroundings will smell fresh and clean as it freshens the air continuously throughout the day. The container has no BPA, making it recyclable or reusable.
Good Aspects:
Plant-based and uses essential oils
Neutralize odors quickly and effectively
No harmful chemicals
Convenient and easy to use, no batteries or plugs are required
Freshens air continuously throughout the day
Recyclable/reusable container
Deficiency:
The scents may weaken after a long time of use
---
➤ Citrus Magic Odor Absorbing Solid Air Freshener
This product from Citrus Magic is available in a solid bar form, containing excellent odor eliminator properties that make it well-suited for use in the kitchen. 
Three products are included in the package so you can keep one in each strategic location in your kitchen. You may also use it to replace your current air freshener.
Sale
Reasons That May Attract You:
You will experience cleaner, fresher air after using the Citrus Magic solid air freshener since it absorbs troublesome malodors. 
Your kitchen will smell fresh all day long with this air freshener that has a refreshing citrus scent. 
This product provides long-lasting odor relief for up to four weeks to breathe fresh air throughout the day. It's easy to use, too. Just remove the lid and place it in your kitchen.
Good Aspects:
Eliminates foul odors effectively
Packaged in three pieces for strategic placement
Lasts up to four weeks for continuous freshness
Easy to use
Deficiency:
If used in a small space, a strong smell may be felt
---
➤ Fresh Wave Continuous Release Odor Removing Packs
Fresh Wave provides you with six packs of odor-removing pods in each resealable pouch. 
The pods will last for 30-60 days and can be used to remove unwanted odors from your kitchen. Your kitchen will smell pleasant and relaxing with the scent of lavender.
Reasons That May Attract You:
These natural plant-based odor eliminators use lavender oil, lime, pine needles, clove, anise, and cedarwood to eliminate unpleasant smells. 
The packs enable you to enjoy a fresh and fragrant kitchen all day by neutralizing odor molecules. 
This product can also be used in your bedroom to remove unwanted smells and pet odors. They are free of toxic and hazardous compounds, making them safer to use around people, pets, and the environment. 
You will never have to worry about your kitchen smelling bad because they constantly eliminate odors from the air. 
No harsh chemicals, synthetic perfume, or phthalates are used in manufacturing these packs, so you can be confident that they will be gentle on your nose and the environment. 
Using Fresh Wave odor removal packs is easy. Simply open the package and place the pack where needed.
Good Aspects:
Each pod can be used for up to 60 days
Natural and plant-based ingredients
Safe for people, pets, and the environment
Free of harsh chemicals, synthetic fragrances, and phthalates
Lavender scent for a relaxing and pleasant kitchen environment
Deficiency:
The holder is not included
The smell may not last very long, but it's effective
---
Comparison Chart of the Kitchen Air Fresheners
| | | | |
| --- | --- | --- | --- |
| Name | Type | Scent | Quantity |
| Febreze Air Freshener | Plug-in  | Linen & Sky | 1 Warmer + 2 Oil Refills |
| Air Wick Kitchen Air Freshener | Spray | Pumpkin Spice | 2 Refills |
| Bright Air Kitchen Air Freshener | Solid gel | Cool and Clean | 6 Pack |
| Citrus Magic Air Freshener | Bar | Citrus | 3 Pack |
| Fresh Wave Air Freshener | Pod | Lavender | 6 Pack |
Factors to Consider When Choosing the Best Air Freshener for Cooking Smells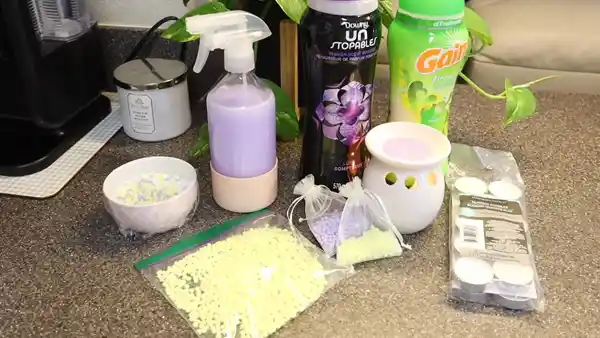 When choosing an air freshener to combat cooking odors, several factors should be considered. As there are many types and scents of air fresheners on the market, choosing one that best meets your needs is important. 
In this way, you can ensure that your kitchen always smells fresh. You can narrow down your options and select the best kitchen air freshener by keeping these factors in mind:
1. Type
If you intend to buy an air freshener to be placed in the kitchen, you first should identify the type of air freshener you require. You know that air fresheners can come in many forms, such as aerosol spray, gel, bar, etc. 
Depending on your needs, you should choose an air freshener type. The package usually contains information regarding the type of air freshener. Also, the type of air freshener will often be mentioned in the product description.
2. Scent
The air freshener's scent is obviously a major factor since you want something that will neutralize the nasty smells of cooking without being too overwhelming or artificial-smelling itself. 
You will find that many air fresheners are available in various scents, so you should have no trouble finding one you like. If you want to know the product's scent before you buy it, you can usually find this information in the product description or on the package. 
To better understand how strong the scent is and what others think, it may be helpful to check out the customer reviews.
3. Ingredients
When choosing the best air fresheners, you should also consider the ingredients. Some air fresheners may contain chemicals that can harm your health, so it is important to choose a product made with natural ingredients. 
This information can be found on the package or in the product description. You may also want to check the customer reviews to see if anyone has had any negative reactions to the ingredients. This will help you choose a safe product for you and your family.
4. Coverage
You want to make sure that the air freshener you choose will be able to reach all corners of the kitchen room, including those hard-to-reach places where cooking odors like to linger. 
To determine how much coverage you need, you should consider the size of your kitchen and the intensity of the odors. If your kitchen is large or the cooking smell is particularly strong, you will need an air freshener with a wide coverage area. 
You should check the product description or package to see the square footage that the product can cover. Thus, you can select the best air freshener odor eliminator for your needs.
5. Duration
The duration of the air freshener is another important factor to consider, as you want a product that will last long enough to maintain a pleasant odor throughout the day. 
You should look for an air freshener with a long-lasting formula that can provide 24-hour protection against cooking smells. For a fresh-smelling kitchen all day, choose a product with a fresh scent that will last for a long time.
6. Quantity
Some products come in multiple packs, while others may only be available in single packs. If you need an air freshener for a large kitchen or if you want to be able to use the product for a long time, you may want to pick one that comes in multiple packs. 
On the other hand, if you only need the product for a small space or for a short period, you may be better off with a single pack. 
But having multiple packs on hand is always a good idea, as you never know when the cooking smells might start to creep back up again.
Is It Healthy to Put Air Freshener in the Kitchen?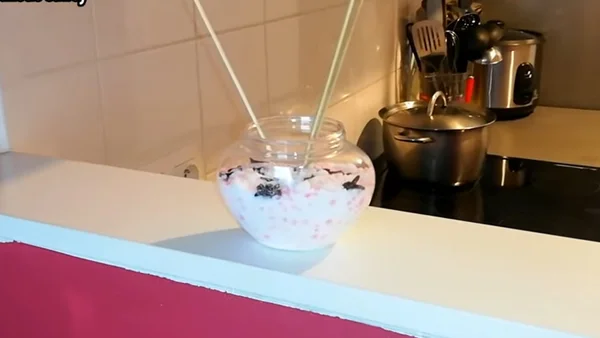 An air freshener's safety depends on its ingredients. You should be aware that some air fresheners contain chemicals that may harm your health. 
There are no health risks associated with using air fresheners in the kitchen, as long as you choose a product that is made with safe, natural ingredients. 
To ensure that an air freshener is free of harmful chemicals such as phthalates, triclosan, BHT, and parabens, always read the product label before using it. 
It is also recommended that you check out customer reviews to determine if anyone has experienced a negative reaction to the ingredients.
Can Air Freshener Smell Transfer to Cooking Food?
The scent of an air freshener may transfer to your food if you use it directly near your food. For this reason, try to keep the air freshener away from your food as much as possible.
When you use citrus-scented air fresheners, if the scent transfers to your food, it will not significantly affect the taste of the food.
Since citrus is a natural flavoring agent. If you use an air freshener with a strong scent, it may adversely affect the taste of your food. Keeping it at a safe distance is always the best course of action. 
In this manner, your air freshener can provide you with a fresh scent without impairing your food's taste.
Do the Fumes from the Kitchen Affect the Plug-In Air Freshener?
Kitchen fumes can slightly affect the performance of a plug-in air freshener. The fumes from the kitchen can build up and clog the air freshener, making it less effective.
To keep your air freshener working correctly, it is best to set it up in a location that is out of the way of the stove. This will help keep the air freshener from being damaged by the fumes and also help it work more effectively.
Do Air Fresheners Kill Bacteria?
This will depend on the ingredients that are in the air freshener. Some air fresheners contain ingredients that have antibacterial properties. These air fresheners can help kill the odor-causing bacteria in the air, like an air purifier.
The ingredients in some air fresheners mask the odor rather than removing it. These types of air fresheners will not kill the bacteria, but they can help to reduce the number of bacteria in the air.
What's the Best Place In the Kitchen to Put the Air Freshener?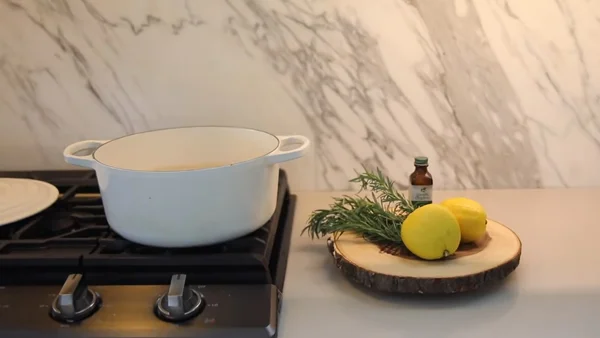 There are a few things to remember when deciding where to put your air freshener in the kitchen. Consider the layout of the room. 
When you have an open floor plan, you'll want to place the air freshener near the center of the room so that it can evenly distribute its fragrance. 
If you have a more traditional kitchen layout with separate rooms for cooking and dining, you'll want to put the air freshener closer to the door leading into the kitchen. 
That way, guests will be greeted with a pleasant scent as soon as they enter the room. Be careful not to place it too close to the stove.
How Long Does an Air Freshener Smell Last In the Kitchen?
This depends on several factors, including the air freshener type, the room size, and the ventilation amount. Some air fresheners will only last for a few hours, while others can last for days or several weeks. 
Air fresheners that use essential oils or other natural ingredients tend to have a longer shelf life than those that use synthetic fragrances. 
The size of the room also affects how long the air freshener will last. A small kitchen will need to be refreshed more often than a large one.
Do Plug-In Air Fresheners Use a Lot of Electricity?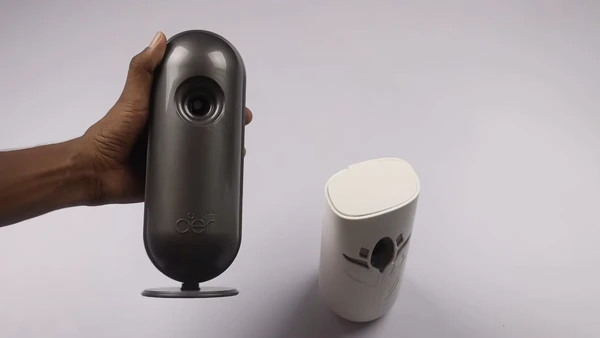 Plug-in air fresheners consume very little electricity. They typically use less than five watts of power, which is about the same as a night light. A plug-in air freshener can cost very low amounts on your electricity bill. 
You can even lower the amount of electricity it uses by unplugging it when you're not using it or using a timer.
Freshen Up Your Kitchen With An Air Freshener
It is now clear why using the best air freshener for cooking smells is necessary. With the right air freshener, you can easily and quickly absorb odors. 
You can also enjoy the fresh smell of your air freshener without worrying about it affecting the taste of your food. Be sure to choose an air freshener that will work well in your kitchen. 
By comparing the features, advantages, and disadvantages of each product, you will be able to find the right air freshener for your needs.
You may also want to follow the tips included in the buying guide to narrow your choices even further. Hopefully, you will then be able to select an air freshener that fits your needs.
You Might be Interested:
5 Best Air Freshener for Cooking Smells Neutralizing in 2023